Dean's Greetings - April 2021
Strengthening Tradition - Igniting Innovation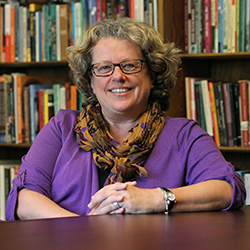 Dear Alumni,

I hope this newsletter finds you and your family healthy and safe as we begin to enter the land of vaccines and hopefully back to more 'normal' possibilities.

This is my final alumni newsletter as dean. As I reflect on the last ten years, I remember many rich moments of engaging with alumni, hearing about your successes, and welcoming your students into our programs. Thank you for continuing to send us interesting, inspiring, creative, and caring students. They always work hard but this year they rose to the challenge of what it took to continue to make music in a face-to-face environment as well as to experience some of their education online. They are extraordinary.

In the last 10 years we renovated and constructed a new building (with 20 named spaces), brought the Mac lab from the North Building to Talbot College, held retreats, and began an extensive strategy mapping plan that has solidified our vision and mission statements, and continues to be shaped as the Faculty continues to evolve and strengthen.

For our undergraduate programs, we reduced credit requirements from 22 to 20, bringing them in line with other undergraduate programs across campus. Out of that emerged a new course, Music Across Cultures and a blending of the Music Theory and Music History undergraduate programs into a new program– Bachelor of Music with Honours in Music Research. We have created other courses including Music in the 21st Century Musician course, one in which students become knowledgeable about the entrepreneurial side of the profession. We continue to explore other ways to enrich the curriculum for students in the Bachelor of Music programs, one of which is the Music Psychology undergraduate minor, and are investigating ways to offer Bachelor of Arts programs that build on the growing Popular Music Studies program. Our offerings for non-majors (open enrolment courses) have expanded on the Jazz, Theory, Musical Theatre, and Rock classes to include Hip Hop, Songwriting, and Gaming.

Our Master of Music (Music Theory and Musicology) are now a one-year program. We have overhauled the Master of Music (Music Education) program, and re-instituted the Kodaly Certification Program. We have developed a Collaborative Graduate Specialization in Music Cognition, and are in the midst of reviewing our DMA program.
Across our programs we have identified 41 courses as experiential learning courses. This work was led by Sophie Roland (a university Teaching Fellow) in her work on reflective practice and reflexivity with the support of two PhD students (Music Education). This reflects our commitment to experiences that are based on the blending of theory and practice.
We have instituted a resident piano quartet, the award winning Ensemble Made In Canada, of which Sharon Wei (Viola) and Angela Park (Piano) are members. Our concert series continues to be rich and now includes the annual Parsons and Poole Concert and Masterclass series. Our Young Winds Program was conceived through the work of Colleen Richardson and Kevin Watson, and has become a rich offering for middle school aged students. And this past fall we created an Equity, Diversity, Inclusion and Decolonization task force to examine the many necessary issues that continue to require a critical eye and our attention.

Our international outreach has strengthened with the opera program (AEDO) in Lucca, Italy, and agreements with various universities and researchers in China, Scotland, Finland, and Guatemala, to name a few. Our international graduate student population has grown and their contributions have strengthened our experiences.

Our identity as a community continues to be strengthened by our core resources–our people, our programs, and our offerings to the university and London communities. We continue to look outwards across campus with an increased presence through our creative scholarly work and our work as pedagogues. This presence has been supported through strategic approaches by our Director of Administration, Marketing and Communications Coordinator, Alumni & Development Officer, Student Recruitment Coordinator, and Technology Coordinator.

And finally, COVID-19. This time last year, we could not have imagined what we were to experience. But we did imagine - through much work and commitment - what we could do for our students. Faculty and staff members began to plan for the fall–we constructed a task force committee, held Town Hall meetings, met, discussed, measured, ordered, read related research, consulted, and posted signs, and as we greeted students in September, we were already tired. But, as you all know, with students comes a level of energy that fuels us, and we forged ahead with one thought–onward. The agility of faculty and staff members to think creatively, to come together as a community, and to focus on the students' education as decisions were made reflects their commitment to the Faculty and students. And I would be remiss if I did not acknowledge the incredible support we have received from the upper administration as we continued with some face-to-face instruction.

This year continues to affirm the critical role music plays in our lives, and the need for the human connection through music. As I engage with students they understand the necessity to engage in and through music, they are grateful to have some face to face interactions, and they have worked hard to keep our buildings safe and healthy.

I hope that each of you remains safe and healthy, that we receive our vaccines, and that we can once again meet face to face and celebrate our passions.
Be well.


Betty Anne (Younker)
Dean, Don Wright Faculty of Music
Professor of Music Education
---
Do contact us through phone, email, Facebook, or Twitter!