Concert Brochure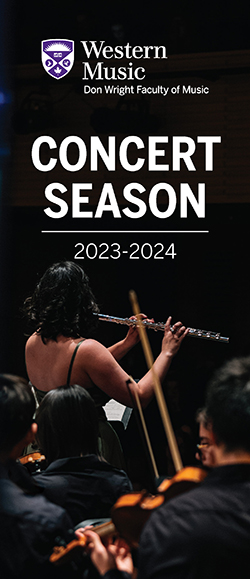 We look forward to sharing another year of music with you! 
2023-24 Concert Season
We are pleased to continue our proud tradition of bringing music to the community! Look for our official season launch on September 1. The printed guide - which includes a small portion of the usual 350-400 performance events each year - will be distributed to all those on our mailing list during the final week of August, and now available for download.
Download concert guide (PDF 4MB)
You can also pick up printed concert guides in person in Talbot College room 232, at Tourism London Welcome Centre locations after Labour Day, and at all London Public Library locations by late September. Hosting a group event or community group? We would be pleased to send additional copies to you for distribution.
Schedules may change so we strongly recommend always checking online before leaving home. For always-up-to-date health and safety protocols, check our Audience Information webpage before you leave home.
If you are not already on our mailing list and would like to receive a printed pocket guide, email musicevents@uwo.ca with your mailing address. If you were expecting a copy and it hasn't arrived by the end of September, please email us to follow up with your new mailing address. 
We urge you to sign up for our monthly email to be notified year-round of hundeds more planned events, and to receive recorded concerts directly to your inbox. 
Thank you for your ongoing support!
---
Stay up to date
Schedule changes are expected and will be reflected online as soon as possible. Here are more ways to find out about upcoming events:
---
Monthly Guides and Updates and Changes
Scheduling and other changes since publication in August 2023 are noted on our new monthly guide listings pages and are NOT reflected in the downloadable version of the printed guide above. Check out each month for a summary of events and to see what might have changed since we went to print: