Concert Brochure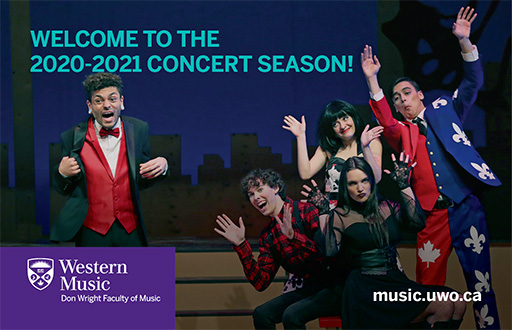 Download 2020-21 concert season brochure (PDF 2.2 MB)
We look forward to sharing another year of music with you! 
2020-2021 Concert Season
We are pleased to continue our proud tradition of bringing music to the community in 2020-2021. Due to COVID-19, we now know that in-person audiences will not be possible during the 2020-2021 academic year (updated January 2021).
Due to the uncertain nature of event planning during the COVID-19 pandemic, this year's printed concert brochure does not include a calendar of events. All concert information will be available online only.
Our first concert of the year will be livestreamed on Sunday, October 4.
General information will go out by mail to all those on our mailing list in early September. To request your own copy, email musicevents@uwo.ca with your mailing address. If you were expecting a copy and it hasn't arrived by the end of September, please email us to follow up with your new mailing address. 
We urge you to sign up for our monthly email to be notified year-round of all planned events, and to receive recorded concerts directly to your inbox. 
Thank you for your ongoing support and patience!
Stay up to date
This year more than ever, schedule changes are expected and will be reflected online as soon as possible. Here are more ways to find out about upcoming events: