Kodály Certification Program
Kodály Certification Program

Registration
Registration Deadline
June 26, 2023
Course Fee
$795
Registration Link
Register
Already registered but need to submit payment? Click here 
---
This course is also available for Additional Qualification and for graduate credit, with different fees.
Additional Qualifications (AQ) Registration
AQ Registration
Graduate Student Registration
Graduate students register via Student Center. For more information, contact the Graduate Program Assistant, Audrey Yardley-Jones, at ayardley@uwo.ca

---
Visitor Information
July 3-14, 2023
Jul 3-6 | 8am–4:15pm
Jul 7 | 8am–3pm
Jul 8-9 | No classes
Jul 10-13 | 8am–4:15pm
Jul 14 | 8am–2pm
Levels I and II
In this two-week intensive program, participants will strengthen their personal musicianship and pedagogical skills, with content grounded in a contemporary understanding of the philosophy inspired by Zoltán Kodály.
Participants will engage in supportive musically educative opportunities through singing, reading, writing, moving and creating to build personal skills and knowledge to assist in classroom music teaching and learning.
On July 5, The Kodály Society of Ontario will present a special workshop: Song as intent and impact in the ethical space of engagement with Kelly Laurila. Download the workshop flyer here (PDF).  
Level I & Level II participants must purchase a copy of Susan Brumfield's 2014 Teaching Guide First, We Sing! Kodaly-Inspired Teaching for the Music Classroom in advance of the course. It is available on Amazon.ca for ~$25.00."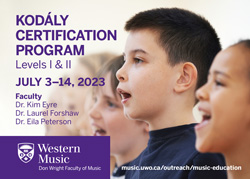 Kodály Certification Program postcard (PDF)
Level I is appropriate for experienced teachers, emerging teachers and graduate students.
Level II builds on the learning in Level I and is open to those who have successfully completed a KSC or OAKE certified Kodály Level I course. The Kodály Society of Canada will certify candidates who successfully complete Level III.
Strengthen understanding of a Kodály-based pedagogical sequence and its connections to the Ontario curriculum
Explore activities that assist children's growth in singing, playing, reading, writing, moving, listening and creating music
Strengthen their personal musicianship, conducting and choral ensemble skills
Immerse themselves in global folk music and music literature for use in classroom and community teaching
---
Also Available
Primary Junior Vocal Music Part 1 Additional Qualification (AQ) available at the Faculty of Education, Western University. Candidates will complete Kodály Level I onsite and an additional two weeks online. 
For further information contact Dr. Kim Eyre (Faculty of Education, Western University) at aeyre@uwo.ca.
---
Testimonials
"The Kodály certification course empowered me with knowledge and material that compels me to evaluate and reevaluate my teaching pedagogy on a daily basis. Taught by an outstanding faculty, the focus of this course is intergenerational and interdisciplinary in a welcoming and thoroughly encouraging environment." – Brent Fifield
"There is not a single day in the classroom that I don't find myself using the skills I have developed in the summer Kodály course at Western. My students find the singing games extremely engaging and I enjoy the structure of teaching a Kodaly lesson. Through the development of a song collection you will leave this course prepared with materials and teaching strategies to make music learning enjoyable for children." – Chantel Vallier
---
Scholarships Offered from the Kodály Society of Canada and the 

Kodály Society of Ontario



Current members of the Kodály Society of Ontario, which includes membership in the Kodály Society of Canada, are eligible to apply for KSC and KSO scholarships.
The deadline for scholarship applications is June 15, 2023. Application forms can be found on the KSC website  and the KSO webpage.
---
Faculty
Dr. Kim Eyre
Ph.D., University of Toronto
Diploma, Kodály Pedagogical Institute Hungary
M.Mus., Holy Names University
Kodály Certification, University of Calgary
B. Ed, Western University
B.Mus. Honours Music Education, Western University
Dr. Laurel Forshaw
Ph.D. Music Education, University of Toronto
B.Mus. Honours Music, Lakehead University
Kodály Certification, University of St. Thomas
Orff-Schulwerk Certification, University of St. Thomas
M.Mus., Music Education and Choral Conducing, University of St. Thomas
Dr. Eila Peterson
B.Mus. Honours Music Education, Western University
B.Ed., Western University
M.Mus., Music Education, University of Calgary
Ph.D., Music Education, Northwestern University
---
Biographies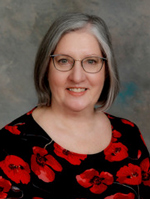 Kim Eyre is semi-retired but continues her passionate advocacy for music education. She was privileged to serve as a music educator for 39 years in elementary schools in London, ON, The Faculty of Education, Western University, the Schulich School of Education, Nipissing University and currently is the coordinator for the Kodály Certification program at the Don Wright Faculty of Music, Western University. Her degrees include Doctor of Philosophy (University of Toronto), Diploma (Zoltán Kodály Pedagogical Institute of Music, Kesckemét, Hungary), Master of Music (Holy Names University, Oakland, California), Kodály Certification, University of Calgary and Bachelor of Education and Bachelor of Music (University of Western Ontario). Kim is the President of the Kodály Society of Ontario and the Past-President of the Kodály Society of Canada. She is a frequent presenter at local, provincial, national, and international music conferences. She has also instructed at summer courses at Wilfrid Laurier University and the University of Alberta. Kim's primary research interests include identity formation and reformation of pre-service and in-service elementary specialist and generalist music teachers and a reimagining of Kodály music education in Canada.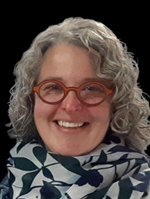 Laurel Forshaw is a Postdoctoral Research Fellow at the University of British Columbia in the Faculty of Education, Department of Educational Studies, where her research in decolonization and Indigenization seeks to draw attention to the disparity between Indigenous and non-Indigenous participation in higher music education within Canada and to encourage and engage in meaningful decolonization and Indigenization within higher music education. Her recently completed doctoral research (PhD, University of Toronto) – Engaging Indigenous Voices in the Academy: Indigenizing Music in Canadian Universities – engaged with six Indigenous musicians who have all studied music in university and was supported by a Joseph-Armand Bombardier Canada Graduate Scholarship (SSHRC-CGS). Laurel holds a Master of Arts in Music Education (Choral Conducting) and Kodály and Orff-Schulwerk certification from the University of St. Thomas, Minnesota.

Laurel serves on the board of directors as treasurer for the Kodály Society of Canada and is currently leading the KSC through the initial stages of decolonization and Indigenization of Kodály practice(s) in Canada. She has also served as a course instructor at the University of Toronto and Lakehead University. A long-time choral conductor of children, youth, and adults, she most recently served as conductor of the Strata Vocal Ensemble in Hamilton, ON, a mixed voice chamber choir (until the COVID-19 pandemic, when in-person choral singing paused). Laurel is also involved in a multi-institutional research project and collaboration investigating all-ability choral experiences through the development of a new app, Adaptive Use Musical Instrument (AUMI) Sings, developed for research on the inclusion of peoples with vocal (dis)abilities in choral settings. The AUMI Sings research seeks to disrupt conventional expectations and experiences of choirs and singing with the goal of considering the complexities and possibilities of inclusive choral experiences.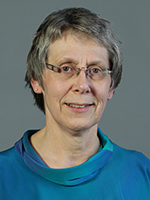 Eila Peterson has studied Kodály methodology with Ilona Bartalus, Miklós Takács, László Vikár, Lois Choksy, Erzsébet Szönyi, and Katalin Forrai and she has taught Musicianship for summer Kodály programs at the universities of Calgary and Victoria. Dr. Peterson currently teaches Music Theory and Aural Skills courses at The King's University in Edmonton. She holds B.Mus. and B.Ed. degrees (Western University), M.Mus. (University of Calgary), and a Ph.D. in Music Education (Northwestern University).
---
Contact Us
Need more information about the Kodály Certification program? We're here to help!
Alberta (Kim) Eyre
aeyre@uwo.ca