Graduate Colloquium Series
Our Graduate Colloquium series includes lectures by distinguished guests, our own faculty, and senior graduate students on all fields of research and creative activity in music.
Check out the schedule below for our upcoming colloquia this year. Admission is free and open to all. Hope to see you there!
All Colloquium events will take place on selected Fridays at 3:30pm via Zoom until further notice.
Please contact ayardley@uwo.ca for more information.
---
2021-22 Colloquium Events
2021
Friday, October 15 | 3:30pm
Shana L. Redmond (Columbia University)
"Antiphonal Life: The Return of Paul Robeson"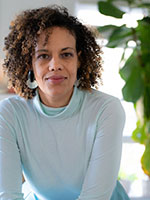 Bio
Shana L. Redmond (she|her) is the author of Anthem: Social Movements and the Sound of Solidarity in the African Diaspora (NYU Press, 2014) and Everything Man: The Form and Function of Paul Robeson (Duke UP, 2020), which received the Walter and Lillian Lowenfels Award for Criticism (an American Book Award) from the Before Columbus Foundation. She is Professor of English and Comparative Literature and the Center for the Study of Ethnicity & Race at Columbia University in New York.
Abstract
Drawn in part from her recent book Everything Man, this talk announces "antiphonal life" as a uniquely conceived strategy of the polymath movement artist Paul Robeson (1898-1976). His vocal labors in unanticipated places-- including those of enforced quiet like the prison--as well as his ascension in scale from raw element to mountain peak, reveals the failures of the suppressive state and the ingenuity of The People in their demand to hear and be heard.
Friday, November 19 | 3:30pm
Andrea Creech (McGill University)
"Signature Pedagogies and Musical Possible Selves" 
Friday, December 3 | 3:30pm
Noriko Manabe (Temple University)
"TBD" 
2022
Friday, February 4 | 3:30pm
Ellie Hisama (University of Toronto)
"TBD"
Friday, March 4 | 3:30pm
Elizabeth Lepock (Western University alumna)
"TBD"
Friday, March 25 | 3:30pm
Alexander Rehding (Harvard University)
"TBD"
---