Emily Abrams Ansari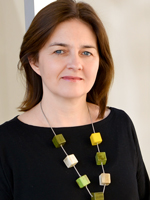 Assistant Dean of Research
Associate Professor
Office: TC 222
Phone: (519) 661-2111 x85387
Email: emily.ansari@uwo.ca
Emily Abrams Ansari, PhD is an associate professor of music history who focuses on 20th-century art, popular, and folk music. She is also Assistant Dean of Research for the Don Wright Faculty of Music. She joined the faculty in 2007.
Before coming to Western, Ansari received a BA from Durham University and an MSt from Oxford University (both in the United Kingdom) and in 2010 gained her PhD in historical musicology from Harvard University.
Ansari teaches courses on 19th- and 20th-century music history at Western at the undergraduate and graduate level. She encourages her students to contemplate music of all kinds in its social and political contexts, while simultaneously encouraging a more intimate understanding of the music itself. Her graduate student advisees are engaged in a range of projects pertaining to 20th- and 21st-century music or music and politics, particularly music composed in the Americas.
Ansari's research lies in the area of music and politics, particularly focusing on national identity and music, protest song, and the politics of race. She has won a number of major prizes for her work, including the Petro-Canada Young Innovator Award, the ASCAP Deems Taylor/Virgil Thomson Award, the Kurt Weill Prize, and the Society for American Music's Cambridge University Press Award. Recent journal publications and her book, The Sound of a Superpower: Musical Americanism and the Cold War (OUP, 2018), consider the effect of the Cold War on American classical composers. Ansari also studies the intersection of national politics with racial politics, and she has particularly focused on the career of African American composer Ulysses Kay.

Ansari is currently participating in a collaborative, interdisciplinary, historical memory project in El Salvador, which seeks to document the experiences of subsistence farmers during that country's civil war during the 1980s. As the musicologist on the team, she is gathering songs from the war to create a song archive, contributing song recordings to an online map about wartime massacres, and collaborating with former refugees to document music's social, psychological, and political functions during the war.
Representative publications
The Sound of a Superpower: Musical Americanism and the Cold War (OUP, 2018)
"Musical Americanism, Cold War Consensus Culture, and the U.S.-U.S.S.R. Composers' Exchange, 1958-1960," The Musical Quarterly 97/3 (Fall 2014): 360-389.
"'Vindication, Cleansing, Catharsis, Hope': Interracial Reconciliation and the Dilemmas of Multiculturalism in Kay and Dorr's Jubilee (1976)," American Music 31/4 (Winter 2013): 379-419.
"Aaron Copland and the Politics of Cultural Diplomacy," Journal of the Society for American Music 5/3 (2011).
For more information on Ansari's teaching and research, see her website and blog at www.emilyabramsansari.com