New Horizons Band

Fall 2023 Registration
New Horizons Band
Music Building, Western University

Beginner I
Beginner II
Intermediate
Advanced I
Advanced II
Lost at "C"
Monday evenings
Mount Zion United Church
Once a Quartet
Thursday evenings
Banting Secondary School/A.B. Lucas
---
Contact Info
Brenda Smith
New Horizons Band Coordinator
519-661-2111 x82974
bsmit32@uwo.ca
Western's program was the first New Horizons Band in Canada, and remains one of the largest programs of its kind in North America. We have 200+ members over the five band levels.
Join New Horizons Band if you want to:
learn how to play a band instrument (not offered during summer session)
brush up your playing skills from the past
meet new people
have a whole lot of fun
The program provides instruction (not offered during summer session) to adults wishing to learn (or re-learn) to play wind or percussion instruments:
flute
oboe
clarinet
saxophone
trumpet
French horn
trombone
tuba/euphonium
percussion
Research shows that playing a musical instrument can be beneficial for your health:
develops fine motor control skills
improves breath control
renews a sense of purpose
expands circle of friends
broadens your musical interests
Each New Horizon Band level has a specific rehearsal schedule and location.
Both our Fall and Winter sessions follow the academic year (September through early April) for all five levels of band. We also offer a Summer session during May and June for four levels of band – a combined Beginner/Beginner II band level, an Intermediate band level, and two Advanced band levels.
All instrument instruction provided for the Beginner / Beginner II / Intermediate band levels will be in a group setting for each respective instrument, and by each band level, during both the Fall and Winter terms. Please note – there is no instrument instruction provided during the Summer session.
New Horizons Band – Beginner
No previous experience or note-reading ability required
You must arrange for your own instrument – you can either rent or purchase instruments
One hour of instrument instruction and one hour of band
Optional rhythm/theory class for those students wanting to learn more
New Horizons Band – Beginner II
You will have successfully completed Beginner level instrument instruction and band
One hour of instrument instruction and one hour of band
Optional 4 part chorales class with focus on playing within a group setting
We recommend remaining in our Beginner II level until such time as you feel comfortable and confident moving into the Intermediate level instruction and band
New Horizons Band – Intermediate
Prior musical experience, or have completed the Beginner II level class
One hour of band and one hour of instrument instruction by each respective instrument (focusing on your instrument with others at your playing level)
New Horizons Band – Advanced I & Advanced II (two band levels)
Participated in the program for more than two terms or previous musical background on your chosen instrument
Two Advanced band classes – two and a half hours of band (no instrument instruction provided with either Advanced level band)
Each Advanced band has opportunities to perform throughout the term
Every second year, you have an opportunity to join a group of NHB members (from various band levels) to tour various European countries. This trip is open to all NHB members. You can travel with other like-minded NHB members for 7–10 fun music-filled days. Some of the trips have included Budapest, Prague and Vienna, Ireland (2019)
Jazz/Blues – Intermediate
New for summer session 2023, we offered band sessions with a jazz/blues focus. We work on the basics of improvising using blues scales and other techniques, improving rhythmic and melodic jazz/swing feel, and play fun/engaging music. All instruments are welcome.
Lost at "C"
NHB associated band that rehearses on Mondays at Mount Zion. Conductor Emily Rouse. For more info, contact NHB coordinator bsmit32@uwo.ca
Once a Quartet
NHB associated band that rehearses on Thursdays at Banting Secondary School. Conductor Eric Heidenheim. For more info, contact NHB coordinator bsmit32@uwo.ca
FAQ
---
Fall 2023
NHB Saturdays | 9–11:30am, Don Wright Faculty of Music - Music Building
Dates: Sept. 9, 16, Oct. 1*, 14, 21, 28, Nov. 4, 11, 18, 25 (NEW), December 2 - Final concert Dec. 9 (no sessions Sept. 23, Oct. 8. *Sunday afternoon rehearsal)
Lost at C | Monday evenings, Mount Zion
September 11, 18, 25, October 2, 16, 23, 30, November 6, 13, 20, 27, December 4, ending on the 11th.
Once a Quartet | Thursday evenings, Banting S.S.
Sept. 21, 28, October 5*, 12, 19, 26*, November 2, 9, 16, 23, 30, December 7, 14 
* A.B. Lucas location
Fees 
New Horizons Band – Beginner - $220 plus HST
New Horizons Band – Beginner II - $200 plus HST 
New Horizons Band – Intermediate - $185 plus HST 
New Horizons Band – Advanced I - $185 plus HST 
New Horizons Band – Advanced II - $185 plus HST
Lost at C (Mondays) - $104 plus HST 
Once a Quartet (Thursdays) - $104 plus HST 
Registration
Registration requires 2 steps for each participant: the sign-up form (button below) and payment (on Western's secure payment platform, PurplePay -- link provided after completing sign-up form). Please register for one ensemble only, and complete one registration form and individual payment for each participant. 
Please register and pay for Fall 2023 sessions by the end of Thursday, Sept. 7* Thursday, Sept. 28, 2023.
*registration and payment deadline extended 
---
Recordings
Video
Click on the following link(s) to view community-supplied recordings on YouTube:
Audio
Click on the links below to listen to an audience member's recording of Lost at C's December 5, 2018 performance at Wolf Performance Hall, London Public Library.
---
20th Anniversary Celebration
Thanks to all who joined us for the New Horizons Band's 20th anniversary Celebration concert in November 2019!
View photos (Flickr)
---
European Tours
2005: Vienna, Budapest, Prague
2007: Paris, Vimy, Brugge, Amsterdam
2009: Stockholm, Tallinn, Helsinki
2011: Rome, Florence, Venice
2013: Berlin, Luebeck, Copenhagen
2015: Edinburgh, York, London
2017: Krakow, Wroclaw, Warsaw
2019: Belfast, Galway, Dublin
2022: Germany, Austria
---
Awards
---
Roy Ernst Award
Congratulations to Allan B. Capp, a recipient of the New Horizons International Music Association Roy Ernst Award. Allan has not missed a practice in his many years of membership and his beautiful tuba sound is enjoyed by all band members. He has joined many of the Europe trips with the band, taking his tuba wherever it is needed. Allan's constant presence in the band exemplifies perseverance, a passion for music and commitment to lifelong learning. His band members are grateful to have been working with him for all these years.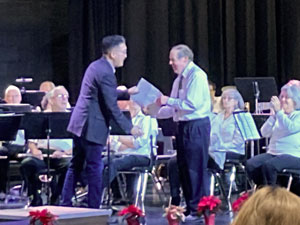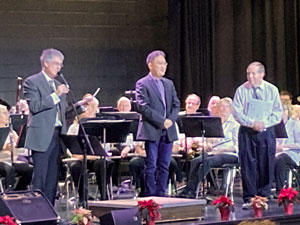 Dean Michael Kim, Advanced II Conductor Mark Enns, and Allan Capp - photos courtesy Don Kaikkonen
---
---
Contact Information
Brenda Smith
New Horizons Band Coordinator
519-661-2111 x82974
bsmit32@uwo.ca