Dean's Initiative
Betty Anne Younker Farewell Celebration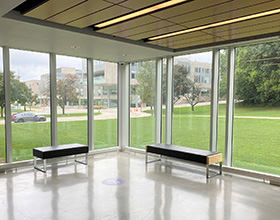 After a decade of strong and passionate leadership, Betty Anne is completing her final term as Dean of the Don Wright Faculty of Music on July 31, 2021.
To celebrate Western Music's first female dean and in recognition of her tireless work, several Western faculty and staff, alumni, community members, and friends have donated to name a special space in the Music Building in honour of Betty Anne. The Betty Anne Younker Community Commons (pending approval) will have prominence and visibility in the very building that Betty Anne helped see get built and renovated during her time as Dean.
A semi-surprise unveiling and farewell event will take place in June and the hope is that as many of the donors to the Initiative and others who want to wish Betty Anne well, can attend. Due to possible restrictions, we will be hosting this event virtually. If we are able to host a portion of the event in-person, we will be inviting specific individuals at certain times. If you have not heard from us by May 15th and would like to attend, please reach out.
Anyone who would like to contribute to the Betty Anne Younker Initiative, please do so online at www.westernconnect.ca/younker. Or you can send a cheque made out to "Western University", noting the Betty Anne Initiative. Please note that all donations must be in by April 30th to be included in the list of donors to be shared with Betty Anne and recognized at the celebration.
For questions, please contact Karmen Ferraro, Alumni & Development Officer.
---
Contact Information
Karmen Ferraro
Alumni and Development Officer
519-661-2111 x85695
karmen.ferraro@uwo.ca