Parsons and Poole

Stewart Goodyear, Photo: Andrew Garn
Featuring pianist Stewart Goodyear
It has become October's hot ticket in London: the Parsons and Poole Legacy Concert. Created by alumni to honour Margaret Parsons and Clifford Poole, the Friday concert and Saturday masterclass brings world-class musicianship to Western's campus.
This year we are honoured to welcome pianist Stewart Goodyear as the guest artist.
Parsons & Poole Legacy Concert
Date: Friday, October 11, 2019
Time: 7:30 p.m.
Location: Paul Davenport Theatre, Talbot College
Program: An all-Beethoven programme of Andante Favori, Sonata op. 22 and Sonata op. 106 ("Hammerklavier").
Masterclass with Stewart Goodyear with piano students from the Don Wright Faculty of Music
Date: Saturday, October 12, 2019
Time: 10:00 a.m.
Location: Paul Davenport Theatre, Talbot College
Admission: Free (no registration or advance purchase required)
About Stewart Goodyear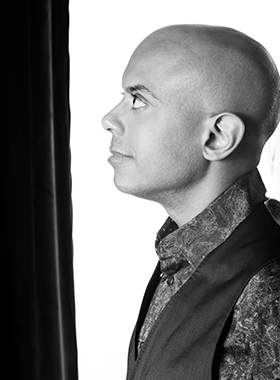 Proclaimed "a phenomenon" by the Los Angeles Times and "one of the best pianists of his generation" by the Philadelphia Inquirer, Stewart Goodyear is an accomplished young pianist as a concerto soloist, chamber musician, recitalist and composer. Mr. Goodyear has performed with major orchestras of the world , including the Philadelphia Orchestra, New York Philharmonic, Chicago Symphony, Pittsburgh Symphony, San Francisco Symphony, Los Angeles Philharmonic, Cleveland Orchestra, Academy of St Martin in the Fields, Bournemouth Symphony, Frankfurt Radio Symphony, MDR Symphony Orchestra (Leipzig), Montreal Symphony, Toronto Symphony Orchestra, Dallas Symphony , Atlanta Symphony, Baltimore Symphony, Detroit Symphony, Seattle Symphony, Mostly Mozart Festival Orchestra, Royal Liverpool Philharmonic, and NHK Symphony Orchestra.
Mr. Goodyear began his training at The Royal Conservatory in Toronto, received his bachelor's degree from Curtis Institute of Music, and completed his master's at The Juilliard School. Known as an improviser and composer, he has been commissioned by orchestras and chamber music organizations, and performs his own solo works. Last year, Mr. Goodyear premiered his suite for piano and orchestra, Callaloo, with Kristjan Jarvi and MDR Symphony Orchestra in Leipzig, and last summer, the Clarosa Quartet premiered his Piano Quartet commissioned by the Kingston Chamber Music Festival. Mr. Goodyear performed all 32 Beethoven Piano Sonatas in one day at Koerner Hall, McCarter Theatre, the Mondavi Center, and the AT&T Performing Arts Center in Dallas.
Mr. Goodyear's discography includes the complete Beethoven piano sonatas and Diabelli Variations, concertos by Tchaikovsky, Grieg and Rachmaninov, his own transcription of Tchaikovsky's The Nutcracker, piano works of Ravel, and a CD that pays homage to Glenn Gould. Mr. Goodyear's recording of his Callaloo suite, his piano sonata, and Gershwin's Rhapsody in Blue, was released on the Orchid Classics label June 2019. Mr. Goodyear has just recorded the complete Beethoven Piano Concertos with the BBC National Orchestra of Wales under Andrew Constantine, and this recording will be released on Orchid Classics this fall.
Highlights of the 2019-20 season include a UK and US tour with Chineke!, return engagements with the Phoenix and Wichita symphonies, the premiere of his cello concerto by the National Arts Centre Orchestra, and performances for Chamber Music Cincinnati and the Isabel Centre for the Performing Arts.
Learn more at www.stewartgoodyearpiano.com
Margaret Parsons and Clifford Poole
Glamorous, talented and world-famous, the husband and wife pianists were not typical professors at Western in the 1950s. Margaret Parsons and Clifford Poole balanced performance tours as a piano duo with teaching and inspiring young musicians. They also recorded their work, created educational materials and started the Gilbert & Sullivan productions still going strong in London today.
They came to London in 1948 to teach at the Western Ontario Music Conservatory, Music Teachers' College and Department of Music at Western. Already well known, the pair joined the staff two years after Alfred Rose, Gustav Mahler's nephew. Over the next few years, the three organizations evolved, each focusing on a different level of music education. As J.R.W. Gwynne-Timothy wrote in his Western's First Century: "The concerts of the well-known piano duo, Clifford Poole and his wife Margaret Parsons, carried far and wide the name of music at Western as public relations emissaries for the college."
A group of alumnae who studied with Parsons and Poole created an artist-in-residence program, called the Parsons-Poole Legacy Project to carry their names into the future.  The project gives students an opportunity to study with musicians who bring the same level of acclaim and expertise as Parsons and Poole.
The benefits of the Parsons-Poole Legacy Project will go beyond the music faculty, providing opportunities for inter-disciplinary scholarship and cultural enrichment for the community. This is a fitting continuation of the kind of projects the duo undertook while in London. They composed and arranged piano music for young players, and their Parsons-Poole Festival Piano Series and Poole's many pedagogical piano pieces remain favourites. The pair also established a community concert series and toured to many Ontario towns and cities, often with students to showcase their talents and gain experience in performing.
Past Parsons and Poole Legacy Concert Performers
Sara Davis Buechner, October 2018
Charles Richard-Hamelin, October 2017
John O'Conor, October 2016
Anagnoson and Kinton, piano duo, October 2015
Angela Hewitt, October 2014
Menahem Pressler, October 2013
Andre LaPlante, October 2012