Parsons and Poole Concert and Masterclass

Photo credit: Ralph Lauer
2023 Parsons and Poole Concert and Masterclass featuring Yekwon Sunwoo 
The Parsons and Poole Concert and Masterclass was created by alumni to honour Margaret Parsons and Clifford Poole, and to bring world-class musicianship to Western. Learn more
This year we are honoured to welcome internationally renowned pianist Yekwon Sunwoo as the guest artist.
Joining us on campus for an in-person event? For always-up-to-date health and safety protocols, check our Audience Information webpage before you leave home.
Concert
Friday, October 27 | 7:30pm
von Kuster Hall
$40 general public ($45 at door)
$15 students/seniors ($20 at door)
Planned program
Bach's (arr. Brahms) Chaconne for left hand and Partita No.2 in C minor BWV 826
Rachmaninoff's Variations on a Theme of Corelli and Variations on a Theme of Chopin
Masterclass
Saturday, October 28 | 10am
von Kuster Hall
Free admission
---
Parsons and Poole 2024
We are also thrilled to announce the Fall 2024 distinguished Parsons and Poole artist, pianist Dang Thai Son (exact dates TBA).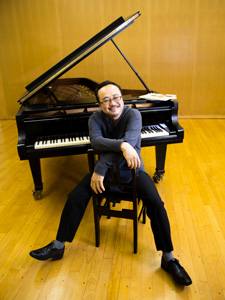 An outstanding international musician of our time, Vietnamese-Canadian pianist Dang Thai Son was propelled to the forefront of the musical world in October 1980, when he was awarded the First Prize and Gold Medal at the X International Chopin Piano Competition in Warsaw. This was the first time a top international competition was won by an Asian pianist.
A renowned teacher and masterclass clinician, Professor Dang's most recent success was Canadian pianist Bruce Liu, gold medalist of the XVIII Chopin International Piano Competition in Warsaw, Poland.
Photo by Hirotoshi Sato
Parsons and Poole 2023
Yekwon Sunwoo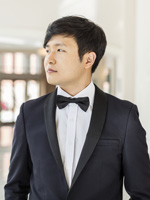 Gold medallist of the Fifteenth Van Cliburn International Piano Competition, Yekwon Sunwoo has been hailed for his "unfailingly consistent excellence" (International Piano) and celebrated as "a pianist who commands a comprehensive technical arsenal that allows him to thunder without breaking a sweat" (Chicago Tribune). A powerful and virtuosic performer, he also, in his own words, "strives to reach for the truth and pure beauty in music".
The first Korean to win Cliburn Gold, Yekwon's 19/20 season includes appearances with Fort Worth and Tucson Symphonies and the Bucheon Philharmonic and debuts with Washington Chamber Orchestra, Royal Danish Orchestra and Danish Radio Orchestra amongst others as well as a debut appearance at the Vail Festival with Dallas Symphony. Recital highlights include Four Season Arts, San Antonio Arts and the Stadttheater Aschaffenburg. 20/21 will see Yekwon make his debut with Orchestra Chambre de Paris and Tugan Sokhiev and return to KBS Symphony with Jaap Van Zweden.
In previous seasons, he has performed as soloist with the Baltimore Symphony Orchestra under Marin Alsop, Houston Symphony, National Orchestra of Belgium, Sendai Philharmonic and Royal Scottish National Orchestra amongst others. Recital appearances include Carnegie Hall, Wigmore Hall, Elbphilharmonie, Salle Cortot and Kumho Art Hall.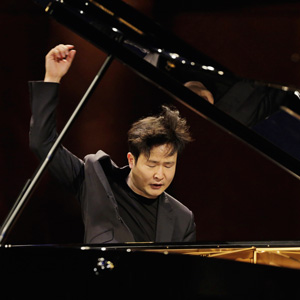 An avid chamber musician, Yekwon's collaborators include Benjamin Beilman, Linus Roth, Andrei Ioniță, Sebastian Bohren, Isang Enders, Tobias Feldmann, Gary Hoffman, Anne-Marie McDermott and the Jerusalem and Brentano Quartets. He has also toured Costa Rica, Guatemala and Panama with the Kumho Asiana Cultural Foundation, performed at Chamber Music of Lincoln Center's Inside Chamber Music Lectures and been invited to the Summit Music, Bowdoin International and Toronto Summer Music Festivals.
In addition to the Cliburn Gold Medal, Yekwon won first prizes at the 2015 International German Piano Award, the 2014 Vendome Prize held at the Verbier Festival, the 2013 Sendai International Music Competition and the 2012 William Kapell International Piano Competition. 
Born in Anyang, South Korea, Yekwon began learning the piano at the age of 8 and made his recital and orchestral debuts in Seoul at 15. His teachers include Seymour Lipkin, Robert McDonald, Richard Goode and Bernd Goetzke.
In 2017, Decca Gold released Cliburn Gold 2017 two weeks after Yekwon was awarded the Gold Medal and includes his award-winning performances of Ravel's La Valse and Rachmaninov's Second Piano Sonata.
A self-proclaimed foodie, Yekwon enjoys finding Pho in each city he visits and takes pride in his
own homemade Korean soups.
Headshot photo by Jeremy Enlow/Cliburn
Piano photo by Carolyn Cruz
---
Margaret Parsons and Clifford Poole
Glamorous, talented and world-famous, the husband and wife pianists were not typical professors at Western in the 1950s. Margaret Parsons and Clifford Poole balanced performance tours as a piano duo with teaching and inspiring young musicians. They also recorded their work, created educational materials and started the Gilbert & Sullivan productions still going strong in London today.
They came to London in 1948 to teach at the Western Ontario Music Conservatory, Music Teachers' College and Department of Music at Western. Already well known, the pair joined the staff two years after Alfred Rose, Gustav Mahler's nephew. Over the next few years, the three organizations evolved, each focusing on a different level of music education. As J.R.W. Gwynne-Timothy wrote in his Western's First Century: "The concerts of the well-known piano duo, Clifford Poole and his wife Margaret Parsons, carried far and wide the name of music at Western as public relations emissaries for the college."
A group of alumnae who studied with Parsons and Poole created an artist-in-residence program, called the Parsons and Poole Concert and Masterclass to carry their names into the future. The project gives students an opportunity to study with musicians who bring the same level of acclaim and expertise as Parsons and Poole.
The benefits of the Parsons-Poole Legacy Project will go beyond the music faculty, providing opportunities for inter-disciplinary scholarship and cultural enrichment for the community. This is a fitting continuation of the kind of projects the duo undertook while in London. They composed and arranged piano music for young players, and their Parsons-Poole Festival Piano Series and Poole's many pedagogical piano pieces remain favourites. The pair also established a community concert series and toured to many Ontario towns and cities, often with students to showcase their talents and gain experience in performing.
Read the feature article about the history of this series and the establishment of the endowed fund. (published in March 2022)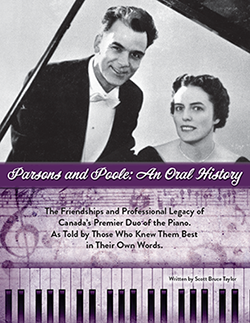 Parsons and Poole: An Oral History
Written by Scott Bruce Taylor, and compiled and prepared by members of the Parsons and Poole fundraising committee. Published in July 2023.
This booklet shares details about the friendships and professional legacy of Canada's premiere duo of the piano, as told by those who knew them best, in their own words. 
Contributions by: 
Dorothy Hollingsworth (Committee Chair and Founder), Michael Kim, Leslie Kinton, Eleanor (Taylor) Honey, Melba (Billing) Matthews, Jim Anagnoson, Dianne (Werner) Simon, Marianne (Moore) Gibson, Judy (Biehn) Craig, Marjan Mozetich
Download PDF (web version 1.8MB)
---
For donor-related inquiries, contact Heather Thomas at hthomas@uwo.ca
For event-related inquiries, contact musicevents@uwo.ca 
---
Past Parsons and Poole Performers
Louise Bessette, October 2022
Jon Kimura Parker, October 2021
Marc-André Hamelin, October 2020
Stewart Goodyear, October 2019
Sara Davis Buechner, October 2018
Charles Richard-Hamelin, October 2017
John O'Conor, October 2016
Anagnoson and Kinton, piano duo, October 2015
Angela Hewitt, October 2014
Menahem Pressler, October 2013
Andre LaPlante, October 2012