Parsons and Poole Fund
Looking back on 10 years of the Parsons and Poole Concert and Masterclass
By Cam Buchan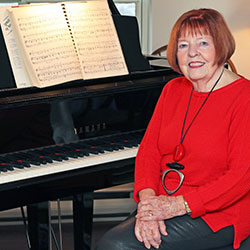 When piano duo Margaret Parsons and Clifford Poole came to Western in the late '40s, the music they made was heard well beyond the music school. Now, more than 70 years later, their unique style and extraordinary talent continues to resonate across campus, and for all who benefited from the Parsons and Poole Concert and Masterclass.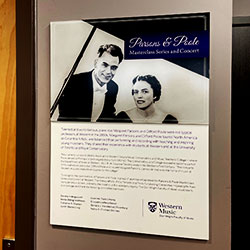 The annual event honours the husband-and-wife duo, who were world-famous recording artists, and performers, as well as professors in the formative years of music at Western. Through their numerous compositions, piano series, community concerts, and leadership – Poole was Principal of the Music School from 1957-59 – the pair made a lasting contribution, which has been carried forward through the Concert and Masterclass.
Begun in 2012 through the efforts of chair and lead donor Dorothy Hollingsworth, BA'56 (Music) and her committee of friends and alumnae who studied under Parsons and Poole, the weekend event features a Friday-night concert by an internationally acclaimed pianist, followed by a Saturday masterclass with the artist and hand-picked students from the Faculty's undergraduate, Master's and doctoral programs. The superstar lineup of performers began with André LaPlante, and has included Menahem Pressler, Angela Hewitt, Marc-André Hamelin and last year's performer, Jon Kimura Parker.
An amazing experience
When Alice Chen sat in von Kuster Hall in October 2021, listening to the performance by Jon Kimura Parker, she was both excited and nervous, knowing she would be playing for Parker the next day.
"I came probably three hours before the actual masterclass just to warm up and run everything through even though I was just going to play a four-minute piece by Rachmaninoff," said the third-year Bachelor of Music Honours student, specializing in Piano Performance.
Chen received the invitation to participate in the masterclass from her Professor Angela Park on a Saturday morning. Her hesitation lasted for all of 10 seconds before she replied, "Yes!"
"It was a really good experience for me to handle the pressure and learn all I could in the masterclass," she said. "He was very approachable. We were only focused on the music; we weren't thinking about anything else. I forgot he was a successful pianist; he was just like a friendly, approachable music teacher."
As a first-year DMA student, Sarah Dardarian, MMus'12, DMA'18, was part of the inaugural event with André LaPlante. It forms an important part of her piano experience and one she will never forget.
"It was a positive experience, and one of the highlights of my educational career," said Dardarian, the second person to graduate with a DMA from Western. Her husband is currently a PhD student studying Music Composition. "I learned lessons that I was able to use for the rest of my music education and in my own teaching."
World-class accomplishments
While Dorothy Hollingsworth did not study with either Parsons or Poole, she emphatically acknowledges the impact the duo had on music at Western and beyond.
"They were such an enchanting couple in terms of what they had accomplished as a duo piano concert team. To me, they were very instrumental in enhancing the music in this city in particular because they knew all of the greats of their time and were influential in bringing that level of talent to the city," she said. Hollingsworth studied under Clifford von Kuster, DMus (honoris causa)'00, who became principal of the college in 1960 and Dean when it became the Faculty of Music in 1968. She also studied voice under Alfred Rosé.
Parsons and Poole Fundraising Committee
Dorothy Hollingsworth
Catherine Charlton
Judith (Biehn) Craig
Eleanore (Taylor) Honey
Elizabeth (Jeffrey) Mason
Melba (Billing) Matthews
The late Irene Bradshaw-Poole
The late Barbara (Handelman) Rosenberg
Nancy (Tieman) Stormes
"My contemporaries were very fond of Parsons and Poole personally and had a lot of respect for their accomplishments. They felt quite honoured to have people of that stature as their teachers," she said. Hollingsworth and her committee set out to ensure those contributions were properly recognized.
Originally envisioned as an artist-in-residence program, the event morphed into a concert and masterclass. Hollingsworth feels the current series recognizes their accomplishments. She credits former dean Betty Anne Younker for her support, including getting the duo's pictures up on the wall in the Music Building.
"She was tremendously supportive and there was a lot of impetus to Parsons and Poole being a successful program and masterclass through her oversight. And now (current Dean) Michael Kim has expressed considerable enthusiasm for it, as well."
Smiling, approachable human beings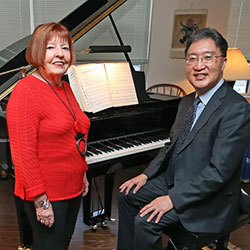 When Michael Kim came to London as the new Dean of the Don Wright Faculty of Music in August 2021, what stood out for him was the annual Parsons and Poole series.
"Very few schools in Canada have an endowed program that is dedicated to bringing in high-profile pianists to not only perform for the community, but also to work with students. That's very unique," said Kim. The endowed fund supporting the event has grown to more than $560,000 thanks to continued donor support, and has provided support for additional masterclasses, and performances.

Kim, who holds a Doctor of Musical Arts degree from the Juilliard School, recalls the inspiration he received from such concerts and hopes music students will aspire to this type of experience.
"These performers are people you hear on the radio, and in the media. They are the prominent classical piano names on the international stage. And they are right in front of you, in the flesh, not only performing for you, but hearing you play for them. And you realize these people are smiling, approachable human beings."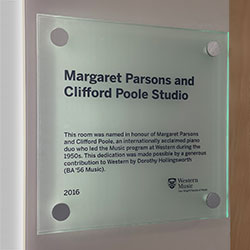 Kim points to the support and engagement of alumni for events like the Parsons and Poole Concert and Masterclass with pride. In particular, he credits Hollingsworth and the committee for the success of the event.
"When you're dealing with the Parsons and Poole event, you need a strong community advocate, and Dorothy is that times 10," Kim said. "She is so passionate about this program. Frankly, we wouldn't have achieved so much with Parsons and Poole without her vision and energy."
--
Hollingsworth looks back with satisfaction on what the Parsons and Poole series has accomplished, particularly for students.
"I think that's basically what it's all about: to give that kind of opportunity to students is an incredible thrill."
---
Announcing the 2022 Parsons and Poole Concert and Masterclass Series artist: We are thrilled to welcome internationally acclaimed pianist Louise Bessette to Western on October 21-22, 2022.