Dean's Greetings - March 2022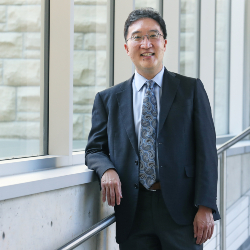 Dear Alumni and Friends,
It is with great pride and excitement that I present our latest alumni newsletter. The continued resilience of our community in meeting the unpredictable challenges of the pandemic continues to be nothing short of miraculous, always underpinned by an unwavering commitment to delivering the best and safest possible in-person educational experience for our students.

Three semesters, to date, of COVID-free, in-person learning would not have been possible without the strong collective sense of community, responsibility, and family-like atmosphere that are the long-standing, foundational hallmarks of our dynamic and caring community. Western University has consistently stood by the Don Wright Faculty of Music throughout this pandemic, generously supporting an array of layered safety protocols including regular testing, mandated medical-grade masking and vaccination, enhanced ventilation and MERV-13 air filtering, and sanitation of surfaces, to enable in-person music making. Wherever our future takes us, our institutional commitment to providing the highest quality and safest possible in-person educational experience for our students remains firm.

I continue to be amazed at how the Don Wright Faculty of Music has spawned the professional careers of so many exceptional graduates across a diverse array of fields. In a recent conversation, Andrea Kalyn (BMus'87, MA'90), President of the New England Conservatory, and former Dean of the Oberlin Conservatory related to me what a special place her educational experience at Western holds in her heart. As our alumni and ambassadors, I have been gratified and moved by your stories of what your educational experiences at the Don Wright Faculty of Music have meant to you – and am fully committed to upholding and enhancing the exceptional quality of our personalized educational experience for our future generations of music students.

In addition to recently being able to completely open our live performances at the Don Wright Faculty of Music to the general public (effective March 1, with mandatory masking and vaccination policies), there are many exciting developments on the horizon: these include approved tenure-track faculty searches for new hires in trombone and popular music/motion media; our current search for a Canada Research Chair in Music, Equity, and Social Justice, which will provide intellectual and/or artistic leadership in how music can play a role in global efforts to afford equal opportunity to all individuals regardless of race, gender, sexuality, or class, and to create more just societies; the ongoing work of our EDI-D committee to more deeply embed diversity and decolonization efforts into our curriculum and institutional practices; and over $300,000 in planned investments to augment our exceptional collection of pianos and expand recording/production facilities.
With London's recent designation as Canada's first UNESCO City of Music, London Mayor Ed Holder recently articulated how music "… can and will serve as an important contributor to London's community recovery and renewal, while offering a sustained economic boost to our city." This prestigious, international UNESCO designation means continued and expanded collaborative and experiential learning opportunities for our students with our community partners – and stay tuned for more details on CLEE (Don Wright Faculty of Music Community Leadership, Engagement, and Entrepreneurship Laboratory), which will award selected music students with seed grants of up to $2,000 for community outreach projects beginning next academic year (2022-23).

As always, we are deeply grateful for your continued engagement and support. On behalf of our students, staff, and faculty, I offer my heartfelt gratitude and thanks.
With warm regards,
Michael Kim
Dean, Don Wright Faculty of Music
---
Stay in touch with us via phone, email, Facebook, Twitter – and now Instagram!