COVID-19 Updates at Don Wright Faculty of Music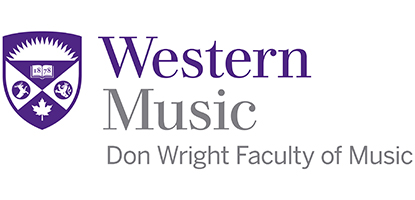 To all members of the Don Wright Faculty of Music community,
Along with Western University, we continue to monitor the rapidly evolving COVID-19 pandemic situation and take direction from federal, provincial and local health authorities.
Western's main website https://uwo.ca/coronavirus remains the central source for up-to-date information from the University. Please follow this as your primary source of information.
Students, do know that we sympathize with each of you as you experience the sadness and frustration that accompanies not being able to experience final performances and recitals in front of audiences, and other final gatherings in classes and informal spaces. We know how meaningful these experiences are, thus the decision to not hold them was most challenging. 
To address additional and unique circumstances applicable to the Don Wright Faculty of Music and its diverse community, additional information and/or specific contact information for you are available below.
The information below will be updated when new information is available.
Betty Anne Younker
Dean, Don Wright Faculty of Music
byounker@uwo.ca
---
Last updated March 27, 2020 – 11:30 a.m.
Current students
Please keep checking your UWO email address for the latest updates. Online instruction is well underway, and all Departments and Administrative Offices continue to be fully operational virtually to meet all your academic needs. You will continue to receive updates from your course instructors, from the Dean, your Department Chair, and/or Associate Dean (Undergraduate or Graduate Studies) with pertinent information. We know you continue to receive many emails given the ever-evolving situation and we thank you for your ongoing patience. Please reach out to any of your instructors or reply to any of the emails you have received if you have questions. Again, we remain available, virtually open and fully operational to support you and address any issues. Full details (including virtual administrative office hours and updates regarding the closure of our physical spaces) have been sent by email. 
Primary staff contacts for current students:
Graduate students
Please look for additional updates by email from your program and refer to the dedicated webpage from the School of Graduate and Postdoctoral Studies (SGPS). grad.uwo.ca/covid19 General inquiries: sgps_questions@uwo.ca 
Future students
Thank you for your continued interest in the Don Wright Faculty of Music. Regardless of your planned program of study at the undergraduate or graduate level, we assure you the Admissions Office continues their work processing applications and remains committed to processing offers in a timely manner. Please continue to monitor your email for continuing updates, including important updates about auditions and interviews. Undergraduate (BMus, BA, Artist Diploma) applicants who have not yet completed their audition and/or interview component of the application have all heard directly from the Associate Dean of Undergraduate Studies with next steps. Please don't hesitate to reach out if you have any questions. We remain available, virtually open and fully operational to support you throughout the application process. The undergraduate (including artist diploma) admissions and admission webpage will also be updated as decisions and updates are made available, although please note that email remains the primary means of direct and personal communication with you. If you have any questions, please don't hesitate to reply to our emails or reach out directly to Sasha Gorbasew at agorbase@uwo.ca 
Undergraduate applicants can also visit Western's main "Welcome" website for general updates relating to University admissions.
Faculty
For additional information not covered on Western's main website main website https://uwo.ca/coronavirus, please refer to emails from the Dean, your Department Chair, and/or Associate Dean (Undergraduate or Graduate Studies), and Assistant Dean of Research. Significant resources and support are available to all instructors and researchers at all levels. Please contact the Chair of your Department if you are unsure of next steps after reviewing all the information available to you.
Staff
In addition to monitoring Western's main website https://uwo.ca/coronavirus, please look for emails from your supervisor and Western's central HR Department. Thank you for all you are doing to keep our community informed and safe during these unprecedented times. Understandably, it is also a time of uncertainty and stress. As such, please remember that the Employee and Family Assistance Program is available 24/7 to all Western Employees, By phone: 1-844-880-9142, on the web, and by downloading the My EAP app https://www.uwo.ca/hr/benefits/eap/index.html
Audience members
All events (including recitals, concerts, lectures, conferences, etc.) are cancelled or closed to the public until April 30. Between March 13 – April 30, we had more than 100 public events planned - the vast majority were free, year-end student recitals. The events calendar is now updated, and we look forward to sharing our music with you once again in the future! All advance tickets purchased have been refunded for Opera Gala, Symphony Orchestra, and/or Choral Celebration. Our community continues to be strengthened by your ongoing support during these unprecedented times. Please continue to connect with musicevents@uwo.ca at any time if you have any questions, or call 519-661-3767 to leave a message. We are working remotely but will get back to you promptly during business hours. 
Public facility bookings (including theatre rentals)
The University has cancelled all room/facilities bookings (regardless of the size of the gathering) up to April 30, 2020. This includes all performance spaces (Paul Davenport Theatre, von Kuster Hall, Studio 242) and any other facility that is available for public rental. We will review bookings beyond April 30 at a later date. In the meantime, you may reach out to Concert Manager Louis D'Alton ljdalton@uwo.ca to reschedule or discuss other options.
Guest artists
All public events and in-person instruction have been cancelled until April 30, which means a number of guest artists and visitors are no longer able to come to Western. If you have not yet been contacted by a representative from the Don Wright Faculty of Music, please contact them directly or email music@uwo.ca and we'll put you in touch.
Outreach programs
New Horizons Band and Young Winds have been suspended for the Winter Term. Russian Lyric Diction and Romance Intensive has been cancelled. Atlantic Music Festival 2020 has been cancelled. Accademia Europea Dell'Opera (AEDO) has been cancelled.
In the news
Pandemic has led to global outbreak of music - via Western News, March 25, 2020
We know this is not a comprehensive list and information is evolving. If you are unsure who to turn to with your specific Don Wright Faculty of Music question, please reach out to music@uwo.ca and we will respond or re-direct your inquiry ASAP.