Sharon Wei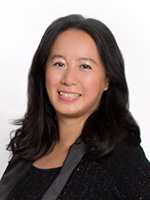 Associate Professor
Viola
Office: MB 335
Phone: (519) 661-2111 x81490
Email: swei48@uwo.ca
Canadian violist Sharon Wei is a dynamic and multi-faceted musician, establishing herself as one of the most respected violists on the scene today. She has appeared as concerto soloist with orchestras such as Symphony of the Redwoods, Kingston Symphony, Sinfonia Toronto, Orchestra of Southern Utah, San Francisco Chamber Orchestra and Connecticut Valley Chamber Orchestra and in 2022 premiered Richard Mascall's Ziigwan viola concerto with Indigenous Elder John Rice as narrator with the London Symphonia.
As a chamber musician, she regularly takes part at international festivals such as Verbier Festival (Switzerland), Marlboro Music, Prussia Cove (UK), Banff, Seattle, Giverny (France) and Ravinia (Chicago). Sharon has performed with renowned musicians including James Ehnes, Benjamin Appl, Marion Newman, Gary Hoffman, Claude Frank, Joseph Silverstein, James Campbell, the Amernet, and St. Lawrence String Quartets. Performances in 2022-2023 include a Musicians from Marlboro tour in venues such as Carnegie Hall, Perelman Theater in Philadelphia, and the Freer Gallery in Washington DC and the premiere of a new string trio by Reena Esmail in Thailand at the International Viola Festival in June 2023.

Sharon is the violist of the award-winning New Orford String Quartet which is comprised of concertmasters and principals from the Toronto and Montreal Symphonies. The New Orford quartet is dedicated to promoting Canadian works, both new commissions and neglected repertoire from the previous century. Recent programs have included works by Canadian composers Ian Cusson, Carmen Braden, Dinuk Wijeratne, Dean Burry, Samy Moussa and Kelly-Marie Murphy. This season they will return to Mount Royal University in Calgary and Western University as artists-in-residence as well as Whitehorse Concerts, Toronto Summer Music and Northwestern University. Next season the quartet appearances include concerts in Vancouver, Victoria, Regina, Saskatoon and Winnipeg.

The New Orford String quartet are the Artistic Directors of the Prince Edward County Music Festival whose mandate is to highlight works of living Canadian composers in the larger context of music of all times. The festival also presents outstanding emerging young artists. The upcoming festival will showcase the music of Marjan Mozetich and Cecilia Livingston and the Viano String Quartet.

Sharon has performed recital tours with pianist Angela Park under the auspices of Debut Atlantic and Prairie Debut. They celebrated their 25th season of performing together with a new commission by JUNO-nominee Darren Sigesmund which they toured in Atlantic Canada. Together they co-founded Ensemble Made in Canada in 2006 when they were awarded a CBC Galaxie Prize.

Ensemble Made in Canada's Mosaïque Project won a 2021 JUNO for Classical Album of the Year and toured to every province and territory in Canada in both traditional venues and eclectic ones such as the seabed of Hopewell Rocks at low tide. A unique feature to the project was collecting over 4000 pieces of artwork drawn by audiences as they listened. Their art has been uploaded and featured on the ensemble's project website. They performed over 50 performances of this new suite of works by 14 Canadian composers which culminated in a livestream concert which has been aired on Stingray's International streaming service, reaching audiences from around the world.

Sharon has been guest principal violist of the Cincinnati Symphony, Canadian Opera Company, and Ensemble Matheus in Paris. Since 2000 Sharon has performed as principal violist with the Verbier Chamber Orchestra in Switzerland. The orchestra has toured with soloists such as Yuja Wang, Daniel Trifinov, Joshua Bell, Maxim Vengerov, Marta Argerich and conductors Gabor Takacs-Nagy, Dmitri Sitkovetsky and Andras Schiff. In November 2023 she returns to Bavaria to perform with Verbier Chamber Orchestra during a week-long residency at Schloss Elmau. She was a guest violist with the Los Angeles Philharmonic on their 2021 Grammy-winning recording of Ives Symphonies.

Sharon was on faculty at Yale and Stanford University and is currently Associate Professor of viola and is acting Assistant Dean of Research at Western University. She has given masterclasses at the American Viola Society Festival, Beijing Conservatory and universities across Canada. In summers she is a regular faculty violist at Curtis Summerfest, Scotia Festival, Tuckamore Festival, Toronto Summer Music and Orford Academy. At Western Sharon has created a course for performance majors in which students learn off-stage initiatives such as networking, grant writing, website design, and managing finances.

Sharon was recognized with a 2021 Faculty Scholar Award at Western University, won the viola prize at Yale University and has been the recipient of grants through the Canada Council for the Arts, Ontario Arts Council, FACTOR and Western University. She has recorded for Centrediscs, CBC, Onyx Classics, Warner Classics and is frequently heard on CBC Radio and Air Canada's Enroute Entertainment.
---
Media

Bohuslav Martinu: Three Madrigals for Violin and Viola, H.313
Scott St. John, violin; Sharon Wei, viola
Seattle Chamber Music Society, Nordstrom Recital Hall at Benaroya Hall, Seattle, WA
---

Dinuk Wijeratne: A Letter from the Afterlife
Start time on video: 22:25
End time on video: 28:00
New Orford String Quartet: Jonathan Crow and Andrew Wan, violins; Sharon Wei, viola; Brian Manker, cello
Toronto Summer Music, Koerner Hall Toronto, ON
---

Felix Mendelssohn: String Quartet No. 2 in A minor, Opus 13
Start time on video: 31:10
End time on video: 1:04:30
New Orford String Quartet: Jonathan Crow and Andrew Wan, violins; Sharon Wei, viola; Brian Manker, cello
Toronto Summer Music, Koerner Hall Toronto, ON
---

David Braid: Great Bear River Blues
Ensemble Made in Canada: Elissa Lee, violin; Sharon Wei, viola; Rachel Mercer, cello; Angela Park, piano
First Ontario Performing Arts Centre, St. Catharines, ON
---

Barbara Croall: Nbiidaasamishkaamin/We come paddling here
Ensemble Made in Canada: Elissa Lee, violin; Sharon Wei, viola; Rachel Mercer, cello; Angela Park, piano
First Ontario Performing Arts Centre, St. Catharines, ON
---

Sarah Slean: Jonny Pippy of Pouch Cove, on a bicycle at Dawn
Ensemble Made in Canada: Elissa Lee, violin; Sharon Wei, viola; Rachel Mercer, cello; Angela Park, piano
First Ontario Performing Arts Centre, St. Catharines, ON
---

Nicole Lizée: The Bessborough Hotel
Ensemble Made in Canada: Elissa Lee, violin; Sharon Wei, viola; Rachel Mercer, cello; Angela Park, piano
First Ontario Performing Arts Centre, St. Catharines, ON
---

Srul Irving Glick: Suite Hebraique No. 2, Cantorial Chant
Sharon Wei, viola
Centrediscs 2018
---

Felix Mendelssohn: String Octet in E flat Major Op. 20
Violins: Scott St John, Erika Raum, Annalee Patipatanakoon, Mark Fewer Violas: Annemarie Moorcroft, Sharon Wei Cellos: Thomas Wiebe, Mischa Meyer
Western University Von Kuster Hall, London, ON
---
Links
www.neworford.com

2022 Faculty Scholars Award - Office of the President