Dean's Greeting – September 2021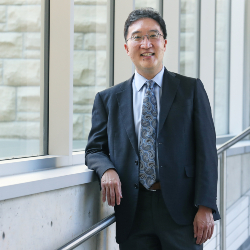 Dear Alumni and Friends,
It is my great honour and privilege to become part of the Don Wright Faculty of Music's long-standing and distinguished legacy. This faculty has mentored and inspired so many of Canada's top music scholars and educators, performers and administrative leaders, and our talented alumni continue to make their mark across all industries and fields.
There is a distinctive sense of cohesion, community, and collaboration within these halls, which I have already experienced among faculty, staff, students, and with colleagues across the campus. Our comprehensive, yet close-knit educational experience at Western Music is distinguished by an agility, creativity, resilience, and sense of inclusivity and care, that is truly remarkable and unique among our peer institutions.
 As you have likely seen in the news, our students – along with the rest of the Western community – experienced an exceptionally difficult start to the school year. What should have been a joyous new chapter in our students' lives has been marred by the terrible events reported during the final weekend of O-Week. Our top priority as a community is to ensure our students feel safe, and have access to any resources they need. I am proud of how our faculty, staff and students have come together at this time to support one another.
As our graduates and ambassadors, I know you can appreciate more than anyone the personal meaning and long-lasting impact your positive student experiences have had on your personal and professional lives. The impressively diverse array of constituencies that our Faculty serve – from students, to educators, to community program participants, to music enthusiasts, and more – will continue to be a vital factor in helping us boldly envision the many exciting opportunities that lie ahead for us with our London, national, and international partners.
I look forward to connecting with all of you in the months ahead, including our annual alumni reception at the upcoming OMEA virtual conference in November. Congratulations once again to the 2020-21 Alumni Wall of Fame inductees Lucia Cervoni, BMus'02, and Paul-André Durocher, BMusA'77, who were honoured at last night's Alumni Awards Celebration.
And while we can't open our concert halls to the public just yet, I hope you have the chance to tune in online for several planned livestreams throughout our 2021-22 season. I am especially proud to welcome home several alumni for today's alumni-filled "Fridays @ 12:30" season premiere featuring featuring Rebecca Cuddy, mezzo-soprano, Clarence Frazer, baritone, Stéphane Mayer, piano, and Trevor Chartrand, piano, later today.
On behalf of the students, staff, and faculty in the Don Wright Faculty of Music, I offer my most heartfelt thanks for your continued support and generosity.
With warm regards,
Michael Kim
Dean, Don Wright Faculty of Music
---
Stay in touch with us via phone, email, Facebook, Twitter – and now Instagram!