Western University Wind Ensemble

Evolving from the Symphonic Band, the Western University Wind Ensemble was established by Jerome Summers in the 1980s. Acknowledged as one of the finest wind bands in Canada, the Wind Ensemble is indebted to the leadership of past conductors: Donald McKellar, James Ford, Charles Dalkert, Wayne Jeffrey, Jerome Summers, David McKinney, and Gary McCumber. With the appointment of Dr. Colleen Richardson, in 2006, the Wind Ensemble continues its journey towards excellence in performance and wind band education.
The Wind Ensemble is open to all Western Students. An audition is required for participation. Repertoire is selected from standard wind ensemble literature, works for chamber ensembles, transcriptions, concerti, and contemporary works. Although core repertoire is the largest programming component, ensemble members will periodically be exposed to iconic wind chamber music, ranging from the antiphonal music of Gabrieli or Classical Period Harmonie music, to the masterpieces of the twentieth and twenty-first centuries. Transcriptions are an important part of the history of the band, especially within the military and professional band traditions, and these are honoured through the performance of selected works. Concerti feature faculty, guests, or students. Students are selected through a competitive process.
Auditions
Audition required. Open to all Western students. Complete information and audition excerpts can be found here.
All wind, brass and percussion students planning to audition for this ensemble should complete and bring this form to their audition:
Repertoire
Rehearsals
Mondays and Wednesdays, 3:30 - 5:30 p.m.
View course outline for more information or visit the MPS general ensemble information page.
---
Performance Excerpts
"Polytechnique", Jonathan Dagenais
Conductor, Dr. Richardson
2017-18
"Tabula Rasa", Don Macdonald, Mark Hopkins
Conductor, Dr. Richardson
Canada 150 Concert
Excerpt from "Sit de Plata", José Rafael Pascual-Vilaplana
Excerpt from "Give Us This Day", David Maslanka
Excerpt from "Metallëphônic Remix", Daniel Nelson/Arr. Anders Högstedt
Conductor, Dr. Richardson
2018-19
Excerpt from "Pershing", Gregory Fritze
Excerpt from "One Life Beautiful", Julie Giroux
Conductor, Dr. Richardson
2018-19
---
2019-20 Performances
All concerts in Paul Davenport Theatre, Talbot College
Catch Me If You Can!
Friday, October 25 | 7:30 p.m.
Paul Davenport Theatre, Talbot College
The Symphonic Band shares the Wind Ensemble's first concert of the season! Along with works by Filmore, Goto, Arnold, and Márquez, the concert features Dr. Bobbi Thompson, saxophone, performing "Joyride" from John Williams's film score written for Steven Spielberg's 2002 film Catch Me If You Can.
Episodes
Tuesday, December 3 | 12:30 p.m.
Paul Davenport Theatre, Talbot College
This concert's musical adventures include Holst's iconic "Mars" from The Planets, along with works by Canadian composer Stetner, Soviet American composer Khachaturian, and American composers Stamp and Ticheli.
Into the Silent Land
Tuesday, February 11 | 12:30 p.m.
Paul Davenport Theatre, Talbot College
The Wind Ensemble's first concert of the new year will feature Tracey Kennedy (flute), the 2019-20 Wind-Brass-Percussion Concerto Competition Winner. Other works include: Grainger's Lincolnshire Posy, Jenkins's American Overture, Nelson's Rocky Point Holiday, and Steve Danyew's Into the Silent Land, an emotional reflection on the tragedy at Sandy Hook Elementary.
Love, Loss, and Longing
Friday, March 27 | 7:30 p.m.
Paul Davenport Theatre, Talbot College
Our final concert of the season includes Music for Prague 1968, Karel Husa's response to the Soviet Union's invasion of Czechoslovakia, and features Soprano Shaelyn Archibald performing 5 movements from Michael Daugherty's Labyrinth of Love. Pieces by Press, Markowski and Serna round out the performance.
---
Recordings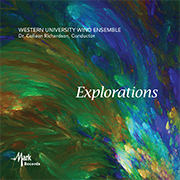 Explorations:
Recorded over three academic years, the latest recordings released by the Western University Wind Ensemble was produced by Mark Records. Available on
iTunes
.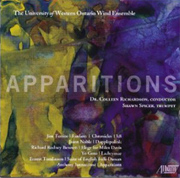 Apparitions
by the Western University Wind Ensemble is on
Albany Records
and available at
Amazon.ca
and
iTunes
.