Western University Wind Ensemble

Evolving from the Symphonic Band, the Western University Wind Ensemble was established by Jerome Summers in the 1980s. Acknowledged as one of the finest wind bands in Canada, the Wind Ensemble is indebted to the leadership of past conductors: Donald McKellar, James Ford, Charles Dalkert, Wayne Jeffrey, Jerome Summers, David McKinney, and Gary McCumber. With the appointment of Dr. Colleen Richardson, in 2006, the Wind Ensemble continues its journey towards excellence in performance and wind band education.
The Wind Ensemble is open to all Western Students. An audition is required for participation. Repertoire is selected from standard wind ensemble literature, works for chamber ensembles, transcriptions, concerti, and contemporary works. Although core repertoire is the largest programming component, ensemble members will periodically be exposed to iconic wind chamber music, ranging from the antiphonal music of Gabrieli or Classical Period Harmonie music, to the masterpieces of the twentieth and twenty-first centuries. Transcriptions are an important part of the history of the band, especially within the military and professional band traditions, and these are honoured through the performance of selected works. Concerti feature faculty, guests, or students. Students are selected through a competitive process.
Joining us on campus for an in-person event? For always-up-to-date health and safety protocols, check our Audience Information webpage before you leave home.
All concerts are approximately 1 hour in length unless otherwise noted.
Saturday, October 22 | 3pm (2 hour duration)
Paul Davenport Theatre
Affirmation
This is a joint concert with the Symphonic Band. Planned program includes March For the Sultan Abdul Medjid by Gioacchino Rossini, arr. Townsend; Affirmation by Wayne Oquin; Handel In The Strand by Percy Aldridge Grainger, arr. Goldman; Les Trois Notes du Japon by Toshio Mashima.
Friday, December 2 | 7:30pm
Paul Davenport Theatre
Connectivity
Planned program includes The White Rose by John Philip Sousa, arr. Brion; Evening Snow at Kambara "Light is the Touch" by Juile Giroux; Danceries by Kenneth Hesketh; Red Sky by Anthony Barfield featuring Assistant Professor Denis Jiron, trombone; Conga Del Fuego Nuevo by Arturo Márquez, arr. Nickel.
Friday, February 10 | 7:30pm
Paul Davenport Theatre
Vignettes
Planned program includes Sélamlik, Op. 48, No. 1 by Florent Schmitt; Peace Dance by Jodie Blackshaw; Flourishes & Meditations on a Renaissance Theme by Michael Gandolfi; Solo Pour Hautbois by Émile Paladihle featuring Winds, Brass and Percussion Student Concerto Competition Winner Biz Tucker, oboe; Havana by Kevin Day.
Friday, March 31 | 7:30pm
Paul Davenport Theatre
Re(new)al
Planned program includes The Melody Shop by Karl King; Tears by David Maslanka; Niagara Falls by Michael Daugherty; Re(new)al by Viet Cuong with special guests TorQ, Percussion Quartet; Enrique López by Alcalde, arr. Antón. This concert is supported by Gift Fund. 
---
Performance Excerpts
"American Hymnsong Suite" (Excerpts), Dwayne Milburn
Conductor, Dr. Richardson
2021
"Polytechnique", Jonathan Dagenais
Conductor, Dr. Richardson
2017-18
"Tabula Rasa", Don Macdonald, Mark Hopkins
Conductor, Dr. Richardson
Canada 150 Concert
Excerpt from "Sit de Plata", José Rafael Pascual-Vilaplana
Excerpt from "Give Us This Day", David Maslanka
Excerpt from "Metallëphônic Remix", Daniel Nelson/Arr. Anders Högstedt
Conductor, Dr. Richardson
2018-19
Excerpt from "Pershing", Gregory Fritze
Excerpt from "One Life Beautiful", Julie Giroux
Conductor, Dr. Richardson
2018-19
---
Recordings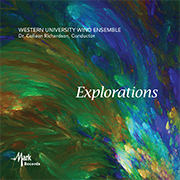 Explorations:
Recorded over three academic years, the latest recordings released by the Western University Wind Ensemble was produced by Mark Records. Available on
iTunes
.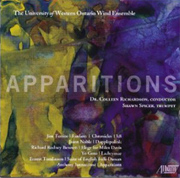 Apparitions
by the Western University Wind Ensemble is on
Albany Records
and available at
Amazon.ca
and
iTunes
.
---
Subscribe to our monthly events email for event notifications year-round, or visit music.uwo.ca/events for more information.