Dean's Greetings - September 2020
Strengthening Tradition - Igniting Innovation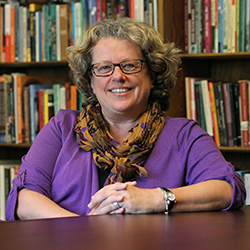 Dear Alumni,

I hope this email finds you and your loved ones healthy and safe as we continue to navigate the shifting landscape of COVID-19.

As a province and community, we have experienced moving through the various phases, each allowing us to expand our activities and bubbles, and yet always maintaining the core practices to maintain the health and safety of self and others. 

Here at Western and in the Faculty of Music, we have experienced the phases of moving everything completely online last March to phasing specific activities back onto campus, including some graduate students practising in practice spaces, and meetings outdoors and some indoors.
During the spring and summer months, faculty and staff met regularly through Zoom while maintaining contact with students. During that time we planned for a return this fall offering courses in a blended or online model. We constructed a task force that examined three areas: technology, curriculum, and wellness. Some faculty members began to experiment teaching studio lessons online, seeking solutions to the various technical aspects that come with online teaching. Knowing that some of the lessons would be face-to-face, they were eager to work out the 'bugs' before the other lessons would be experienced online.
Through all of the planning and experimenting, our focus was on ensuring that students would have the best possible experience, and part of those experiences would include the essence of engaging with and through music face-to-face. The fundamental question was and continues to be, "How can we offer the best possible experiences for our students while adhering to the health and safety protocols and guidelines?"

The health and safety of our campus is a shared responsibility. We all must take thoughtful and persistent steps to take care of ourselves, each other, and our community. If we all do our part and take precautionary measures, we work together to create a safer and healthier Western community. Our students are back on campus, and they are excited to be here. They have read the guidelines and know that to remain on campus requires them to adhere to those guidelines. This fall one of the courses I teach is the first-year teaching and learning course. As always, I am energized by our students–they are bright, curious and passionate.

With this message comes an opportunity to share some of the recent highlights of our students' and faculty members' accomplishments:
Much to celebrate! We also celebrate each of you and your support of the Faculty–in terms of giving financially and of your time, as well as being a champion of our programs by encouraging students to consider a music degree from Western. I consider our alumni to be our strongest recruiters and we see evidence of that each year at recruiting activities, auditions, and throughout the students' four years with us in the Faculty. I encourage you to explore and share new virtual opportunities future students have to engage with us personally. Thank you for continuing to send us inspired, disciplined, caring, and interesting students! 
While I cannot see you in person at the various conferences and functions this year, I do look forward to seeing you in virtual worlds including Homecoming weekend and some of you at the Ontario Music Educators Conference. I also hope you will enjoy watching our students, faculty and guest artists from home as we launch our virtual 2020-2021 concert season.
Be well and be safe.
Betty Anne (Younker)
Dean, Don Wright Faculty of Music
Professor of Music Education