PhD Candidate April Morris wins Society for American Music's Mark Tucker Award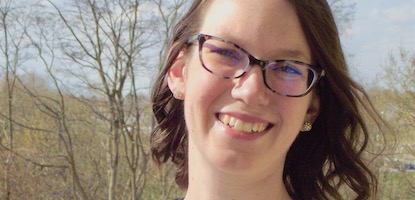 Congratulations to current musicology PhD Candidate April Morris, MA'15 (Musicology), who has been awarded the Society for American Music's prestigious 2020 Mark Tucker Award for outstanding conference paper by a student. Her award-winning paper, entitled "Composing a Nation in Crisis: Musical Americanism and U.S. National Identity in Elie Siegmeister's Vietnam War Works," draws on work from her PhD dissertation. The paper will be presented at the 46th Annual Conference of the Society for American Music 16 - 18 July, 2020, which will be hosted virtually for the first time this year after the in-person event was cancelled in March 2020.

Registration and program information is available on the SAM website (links below).
Related Links
Society for American Music (SAM)
SAM 2020 Virtual Conference - program
Awards announced in the SAM Bulletin - Volume XLVI, No. 2 (Spring 2020)
About the SAM Mark Tucker Award