Dean's Greetings - Spring 2019
Strengthening Tradition - Igniting Innovation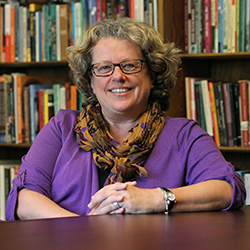 On behalf of the Don Wright Faculty of Music, I send greetings to each of you.
I write having just returned from Hong Kong where I met with donors and alumni. This followed visits in Beijing and Shanghai where I met with administrative and faculty members at several universities to discuss possible partnership; all are very receptive and recognize the strength of our programs, alumni, current students, faculty and staff.  This fall will see four students from Soochow University entering master's or doctoral programs, as we continue to solidify our relationship with that institution.
One great part of the job is to talk about what we do so well, and to share the passion each of us has for music in all of its diverse offerings and experiences.
It was exciting to see the strong presence of the Faculty and Western throughout the Junos weekend culminating with the Sunday night nationally broadcast show. The JUNO Awards opened with Loud Luxury (Joe De Pace, BA'14 (Popular Music Studies) and Andrew Fedyk, BA'15) and Western's Marching Band - led by Music Education grad Quinn Fleming - and Western's award-winning Cheerleaders.
Before the weekend occurred, the Music + Video Gaming Collision conference was hosted by Professor Jay Hodgson, and featured several of our alumni as speakers, including keynotes from Matt Shelvock, BA'10 (Popular Music Studies), MA'12 (Popular Music and Culture), and PhD'17 (Musicology); and Dan Turcotte MA'15 (Popular Music and Culture), with a featured presentation by PhD Candidate Mac Enns.
Throughout the week, there were many "purple and proud" performances across London featuring several Music alumni and students, and we enjoyed watching our facilities and alumni featured in CBC's JUNOS special "London Calling".

On Friday we had Stephan Moccio, BMusA'94, as our "Fridays at 12:30 Concert Series" artist in von Kuster Hall [Missed the live broadcast? Watch full video via YouTube]; following his recital he spoke to students, faculty, staff and community audience members about his career and choices made that were necessary to achieve the success he is experiencing today. He reminded students that skill, technique, passion, and discipline are critical, and that one must be nimble and agile to seize opportunities as they are presented.  That evening, he gave a show at Aeolian Hall followed by a reception. [view photos via Flickr]
We are very excited to announce that Moccio will be receiving an honorary doctorate at this spring's Don Wright Faculty of Music and Faculty of Arts & Humanities convocation. He will join us to receive the degree and give the convocation address. Mark your calendars! Tune in to watch Music Convocation live at 10 am EDT on Monday, June 17.
In June we will celebrate the 2019 Wall of Fame inductees – Andrea Kalyn, BMus'87, MA'90, and Phil Murphy, BA'59. Dr. Kalyn was announced as New England Conservatory's 17th President in August 2018; prior to that she served as Dean and Associate Dean for Academic Affairs for the Oberlin Conservatory. Before receiving her PhD (Musicology) from the Eastman School of Music, she completed her bachelor's and master's degrees (musicology) from the Faculty of Music, and ARCT (piano performance) from the Royal Conservatory of Music. Mr. Phil Murphy is no stranger to the music scene in London as a music educator, performer, and conductor. He served for many years as the music director at Catholic Central High School, founded and conducted Encore . . . The Concert Band, and still performs today in a variety of settings in London. His passion for music is as strong as it was when he began as a teenager in the Windsor/Detroit venues where he began his music education from his father and through playing with many notable musicians. The Western Alumni Awards Dinner, during which time both Andrea and Phil will be recognized, will occur on June 7.

Finally we are excited to celebrate David Marlatt, BMus'96, who was honoured with the Canadian Band Association 2019 Canadian Composer Award and Leslie Kinton (Anagnoson & Kinton Piano Duo) who, with James Anagnoson, was named Honorary Fellow of the Royal Conservatory of Music.
Our alumni, faculty, staff, and students continue to be recognized; we encourage you to visit our website on a regular basis to read about their many accomplishments. Examples include Professor Sophie Roland being chosen as one of the University's Teaching Scholars, the recognition of Emily Abrams Ansari, Omar Daniel, and Paul Woodford for their newest publications at the annual authors' event; and current spring and summer programs including the Atlantic Festivals of Music in early May, our Canadian Operatic Arts Academy (which concluded last week), summer Music Education offerings, Western University Summer Band Camp and the residency of the Ontario Youth Honors Choir, led by conductor and alumna Dr. Vicki St. Pierre, BMus'96, MMus'98.
We also celebrate each of you and your support of the Faculty–in terms of giving financially and of your time, as well as being a champion of our programs by encouraging students to consider a music degree from Western. I consider our alumni to be our strongest recruiters and we see evidence of that each year at recruiting activities, auditions, and throughout the students' four years with us in the Faculty. Just this past semester I taught the first year music education class and one assignment was for students to interview a mentor in their lives. The vast majority picked you–a former music teacher in a school or studio setting, or a music director situated in a church. They speak of your motivation and passion; how you inspired them and believed in them; how you listened, cared, and nurtured. Thank you for continuing to send us inspired, disciplined, caring, and interesting students!
Do stay in touch, and do visit us when you are in London. With hopes of seeing you at 2019 Homecoming weekend, I wish each of you all the best.
Betty Anne (Younker)
Dean, Don Wright Faculty of Music
Professor of Music Education