Piano professor Leslie Kinton named Honorary Fellow of The Royal Conservatory of Music as member of piano duo Anagnoson & Kinton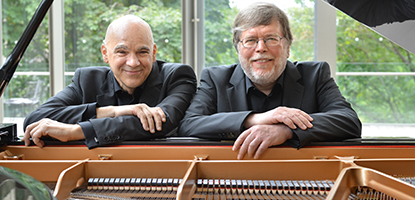 Congratulations to piano performance faculty member Leslie Kinton!
Internationally celebrated Canadian piano duo Anagnoson & Kinton have been named Honorary Fellows of The Royal Conservatory of Music (RCM). The designation of Honorary Fellow, the highest designation conferred by the organization, is awarded to a distinguished group of individuals and organizations who have made an extraordinary contribution to arts and culture in Canada and beyond. James Anagnoson is Dean of the Glenn Gould School and also on their piano faculty. Past recipients include Leon Fleisher, Lang Lang, Oscar Peterson and Teresa Stratas.
Leslie Kinton was born in Toronto and studied the piano with Pierre Souvairan and Boris Berlin as well as composition with Samuel Dolin. He also studied the piano in New York City with Jeaneane Dowis and Karl Ulrich Schnabel. He has a Ph.D. in music theory from the University of Toronto with a specialization in Schenkerian analysis; his dissertation was an exhaustive study of Dvořák's Symphony no. 7 with two of the world's most renowned Schenkerian theorists, David Beach and Edward Laufer.
Anagnoson & Kinton have been performing together for more than 40 years and are recognized today as one of the world's finest piano duos. With over 1,000 performances throughout the duo's history and 10 critically-lauded recordings, their astonishing performances have been repeatedly met with great critical acclaim across North America, Europe, China, and Russia. In addition to traditional recitals, the duo has commissioned numerous compositions, expanding the boundaries of piano-duo idiom. Respected scholars and performers, Anagnoson & Kinton's musicianship defines the art of true ensemble playing.
The Royal Conservatory of Music is one of the largest and most respected music and arts education institutions in the world. Providing the definitive standard of excellence in music education through its curriculum, assessment, performances, and teacher education programs, the Conservatory has had a substantial impact on the lives of millions of people globally.
The award will be presented in Koerner Hall, Toronto at The Royal Occasion, RCM's signature gala event, on May 15.
Read full media release (via The Royal Conservatory of Music, April 23 2019)
Via Western News: Two pianos. Four hands. Nearly 50 years of friendship. All have been instrumental to the success of the internationally acclaimed piano duo, Anagnoson and Kinton, and to their most recent distinction as Honorary Fellows of The Royal Conservatory of Music.
Read full Western News article (April 25, 2019)
Via Western News: "Read. Watch. Listen." featuring Leslie Kinton. "Boldy going to 'Moons' and beyond"
Read Western News article (April 25, 2019)
Photo credit: Nicola Betts (Anagnoson left, Kinton right)
Related links
Biography - Leslie Kinton, Associate Professor (piano)
The Royal Conservatory of Music
Event information - The Royal Occasion - May 15, 2019
YouTube - Tribute to Anagnoson & Kinton (RCmusic)