Leslie Kinton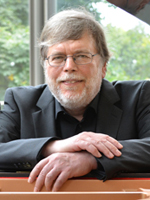 Professor
Piano
Office: MB 316
Phone: (519) 661-2111 x85373
Email: lkinton@uwo.ca
Leslie Kinton was born in Toronto and studied the piano with Pierre Souvairan and Boris Berlin as well as composition with Samuel Dolin. He also studied the piano in New York City with Jeaneane Dowis and Karl Ulrich Schnabel.  He has a Ph.D. in music theory from the University of Toronto with a specialization in Schenkerian analysis; his dissertation was an exhaustive study of Dvořák's Symphony # 7 with two of the world's most renowned Schenkerian theorists, David Beach and Edward Laufer.
From 1976 to the present, as a member of the Anagnoson & Kinton piano duo, Leslie Kinton has performed throughout North America, Europe, and Asia.  The duo has played with the major orchestras across Canada including the Toronto Symphony Orchestra, the Winnipeg Symphony, the Kitchener-Waterloo Symphony, the Calgary Philharmonic, Symphony Nova Scotia, the Victoria Symphony, and the C.B.C. Vancouver Orchestra; they have a discography of nine recordings. Anagnoson & Kinton are on C.B.C. radio almost every week, and they have also broadcast on the B.B.C., National Public Radio in the U.S.A., Czech Radio, Hilversum Radio in Holland, Hong Kong Radio, and Radio Suisse Romande.  In December, 2004, they had an eight-concert tour of China and returned for another eight concerts in October of 2006.  In December of 2007, Anagnoson & Kinton performed in Prague as part of the annual Martinů Festival in the Czech Republic, and in October 2008 gave recitals and master classes in St. Petersburg, Russia, as part of the 8th Annual Conservatoire Festival in Glazunov Hall.  During the summer of 2012, the duo was invited to perform in Poland where they played concerts in Poznan and in Antonin for the Chopin Society.  In 2014, Anagnoson & Kinton performed in Toronto's Koerner Hall with Emanuel Ax and Stewart Goodyear as part of "Pianopalooza", as well as with the Toronto Symphony Orchestra in Roy Thompson Hall. In 2019, Anagnoson & Kinton were named Honorary Fellows of The Royal Conservatory of Music. The designation of Honorary Fellow, the highest designation conferred by the organization, is awarded to a distinguished group of individuals and organizations who have made an extraordinary contribution to arts and culture in Canada and beyond.
Leslie Kinton is one of Canada's best-known and most sought-after chamber musicians and is a founding member of ARC (Artists of the Royal Conservatory), the resident chamber ensemble of The Glenn Gould School. Fellow artists he has performed with include Bryan Epperson, the St. Lawrence Quartet, the Madawaska Quartet, Martin Beaver, Ifor James, Joel Quarrington, the Amici Chamber Ensemble, Erika Raum, Steven Dann, Anna Redekop, Mark Fewer, Dennis Brott, James Sommerville, James Campbell, Joaquin Valdepeñas, Raymond Luedeka, Avram Galper, Nora Shulman, the York Winds, and actor Colin Fox (for Strauss's Enoch Arden).
Leslie Kinton is a professor of piano performance at Western University.