Roland: Bringing teaching into the world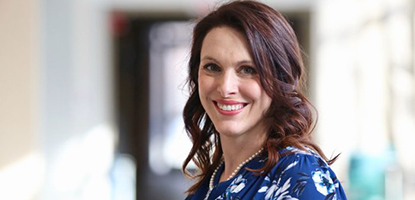 Sophie Roland stresses that all the world is a stage for her students.

"We teach applied music; we teach lessons; we teach opera. But I have tried to go beyond this direct and practical approach and add more experiential learning into the curriculum of our students, in particular international experiential learning," the Don Wright Faculty of Music professor said.
Roland was recently selected to be part of the Teaching Fellows Program in Western's Centre for Teaching and Learning. There, faculty members develop teaching innovation projects, perform research on the impact of those projects and provide professional development opportunities in teaching within their own faculties.
Read full article (via Western News, March 26, 2019)
Western News - Editor's note: Western will host the Times Higher Education (THE) Teaching Excellence Summit June 4-6, the first time the event has been hosted in Canada. This is one of a series of stories highlighting teaching excellence at Western.
Related Links
Biography - Sophie Roland, Chair, Music Performance Studies Department
COAA and AEDO - Canadian Operatic Arts Academy (London, Canada) and Accademia Europea Dell'Opera (Lucca, Italy)
Music Performance Studies Department, Don Wright Faculty of Music