Alumnus David Marlatt receives Canadian Band Association 2019 Canadian Composer Award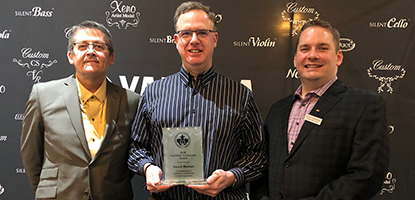 Congratulations to alumnus David Marlatt, BMus'96 (Music Education), winner of the Canadian Band Association (CBA) 2019 Canadian Composer Award. This is only the eighth time this award has been given out since it was established in 1991. The award was handed out during a surprise ceremony on Friday, February 15 during the Ontario Band Association's (OBA) 2019 Concert Band Festival. It was presented by senior CBA and OBA executive members, including Scott Harrison, CBA President and OBA Past President (pictured right). Pictured left is Canadian composer Bill Thomas whose works are published through Eighth Note Publications. He was also David's high school teacher.
Read full media release issued by the CBA:
(shared with permission)
David Marlatt began Eighth Note Publications in 1996 with a 14 piece catalogue. The catalogue consisted of arrangements completed by himself and Kenneth Bray for David's brass quintet at the University of Western Ontario. This marked the foundation of Eighth Note Publications.

From that point forward the company began to grow; he soon began to add woodwind ensemble arrangements to the catalogue to support a need in a school. As time passed other Canadian composers began to access David's resources and Eighth Note was beginning to be recognized for its quality music for educational purposes. Being based in the school system as a teacher, David was very aware of what worked for students and what would challenge them as developing players. This continues today as he works with all of the composers associated with Eighth Note.

In 1998, Eighth Note Publication, from the determination of David, released its first full concert band release. This was a change in direction for the company and set it on the way to becoming what it is today. Eighth Note was on its way to becoming recognized across the country for its education-friendly yet challenging material.

Through Eighth Note Publications, David not only champions Canadian music, but more importantly, he provides quality music for students and professionals alike. David attends various music educator conferences, and talks with teachers to see what they were looking for to address their classroom and rehearsal needs. Through Eighth Note, David has filled a void in small ensembles repertoire for schools as well as created concert band music that helps teachers to deliver not only their curriculum but also provide quality literature that excites students and challenges them at the same time.

After meeting many teachers, David has been asked to provide workshops and clinics at a variety of schools on topics including: composition, arranging, the importance of chamber music within the band, how his company got started, and what else to do with a music degree. He has also been commissioned to write many pieces by a variety of ensembles throughout the country. Each year the Halton District School Board Band Extravaganza commissions a work by him, where he provides composer insight on the piece to the many elementary bands that participate in this event.

In 2007, Eighth Note Publications was released across the United States by Alfred Music. This has broadened exposure of Canadian music and made more people aware of the band and small ensemble music published by Eighth Note Publications. Eighth Note Publications is also carried in Japan, Europe, the Netherlands, Germany, and Australia. The MusicFest Canada Syllabus has 17 Eighth Note Publications pieces on it as of October 2019. This is the second only to Hal Leonard Publications. Eighth Note publications is featured on the festival syllabi of many concert band festivals in Canada.

David has composed over 40 new works and has arranged over 1000 pieces for all variety of ensembles including concert band, jazz ensemble, small ensembles of both brass and woodwinds and percussion ensemble. His flex-band arrangements have provided the opportunity for mixed instrumentation ensembles to be played at any level of expertise. This concept has allowed schools with any combination of instrumentation to perform quality, Canadian, band music with success and pride.

David's work is education focused as he knows what schools need for their ensembles to have success. He is a staunch supporter of Canadian band music and works hard to ensure bands all over the world are exposed to it.
Related Links
Canadian Band Association - Award recipients
Western University - Music Education Department
Don Wright Faculty of Music - Alumni