Young-Ja Park Chamber Music Award
Young-Ja Park Chamber Music Award
The Young-Ja Park Chamber Music Award is awarded annually to full-time Don Wright Faculty of Music graduate and/or undergraduate students performing in a Chamber Music group who are being recognized as members of the most promising Chamber Music Group, and exemplify excellence in performance and collaborative work throughout the fall term.

This award was established with a generous gift from Mr. Ok-Kyu Park in memory of his wife, Young-Ja Park. As an immigrant from South Korea, Mrs. Park prioritized musical education for her family and was a driving force in inspiring such dedication to classical music within the London community. Though she was never formally trained, Mrs. Park had an inherent love of classical music, and especially enjoyed the interactive spirit of chamber music. The award was set up by members of the family.
---
Winners
2022-23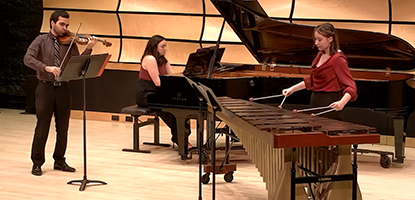 This year's winners are Patricio Flores-Esquivel, violin, Meagan Foster, marimba, and Lianna Grace, piano. Congratulations! The trio, coached by faculty member Brett Kingsbury, performed the first movement (I. Introduction) from Trio for Violin, Marimba, and Piano by Colin Martin. We are looking forward to their upcoming winners' recital as part of the winter term's Chamber Music Recital Series.
2021-22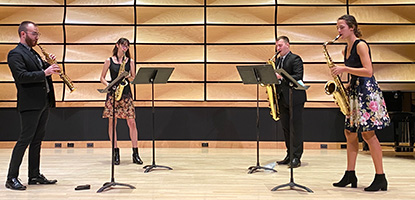 Congratulations to saxophonists (L-R) Chase Griffin, Paula Kokot, Alessandro Calicchia, and Alexandra Graham, whose chamber group was selected by professors Jana Starling and Tom Wiebe, based on their performance during the Fall 2021 Chamber Music Showcase concerts. 
2020-21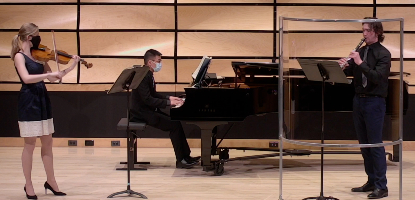 This year saw the inaugural competition for the Young-Ja Chamber Music Award. The competition, which was judged by the faculty coordinators for the Don Wright Faculty of Music's student chamber music course, Professors Jana Starling and Tom Wiebe, saw all nine competing groups give a high standard of performance. The winning student chamber music group, Joel Robertson on clarinet, Elizabeth van't Voort on viola and Leonardi Joewono on piano, performing movements three and four of Robert Schumann's Märchenerzählungen, played with particular polish, expression, and the kind of communication between players which is the hallmark of a good chamber music performance.

Watch the 2020-21 winners' recital