Doctor of Musical Arts in Performance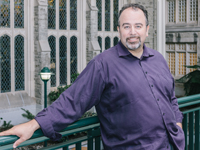 "The course work has been interesting and challenging and the faculty members I've taken courses with have been knowledgeable and fun to work with. They create a really positive learning environment."  Chad Louwerse, DMA Candidate, Voice
Learn more about Chad Louwerse and our DMA program
Program Requirements
The Doctor of Musical Arts is a doctoral degree in music performance with areas of concentration in voice, piano (solo and collaborative), violin, viola, cello, clarinet, trumpet, and percussion.
The program requirements include:
Lessons (weekly applied music instruction for 6 terms)
Non-performance courses 
Four Performance Events
Comprehensive Examination
Defense of monograph proposal
Monograph and oral defense
The four Performance Events, normally one per year, may include solo recitals, chamber music recitals, opera roles, lecture recitals, or other events appropriate to the area of concentration.
Each DMA student will have a DMA Advisory committee, which will be responsible for approving the student's course selection, performance event programs, and comprehensive examination. The monograph proposal and monograph will be written under the supervision of a monograph supervisor, or co-supervisor, and second reader.
Timeline for Progression in the DMA 

Notes:
All courses in support of performance must be completed before the Comprehensive Examination.
All non-performance courses must also be completed before the Comprehensive Examination.
Language requirements, where applicable, are not shown in this chart.
This chart does not include the application for ethics approval (where applicable). The student and supervisor must plan accordingly.