Dean's Greetings - December 2018
Strengthening Tradition - Igniting Innovation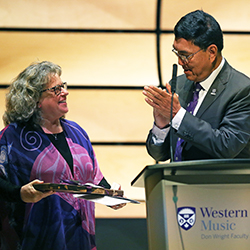 On behalf of the Don Wright Faculty of Music, I send greetings to each of you.
I continue to enjoy your stories as I gain insights about what makes the Faculty of Music unique. That distinguishing characteristic continues to be a community in which support and healthy competition contribute to the quality and strength of the education experienced.
These past few months have been filled with celebration as we officially opened the building with President Amit Chakma, Provost Andrew Hrymak, former President Paul Davenport, Chris Wright and Pamela Wright (grandson and granddaughter of Don Wright), and members of Deral Johnson's family in attendance. We recognized those who have supported the building, which now has seventeen named spaces. Visit the Music Building Grand Opening webpage to learn more.
The official opening was part of our weekend-long Homecoming celebrations, with an uplifting performance by the Alumni Choir, conducted by Bob Anderson and Carol Beynon. At that concert we announced the first recipient of the Deral Johnson Choral Legacy Scholarship Award. Marie Johnson, daughter Gail, son Merrill, and granddaughter Erin were overwhelmed by the alumni who reminisced about their time with "DJ'. Alumna and soprano Adrianne Pieczonka also generously gave her time and talents to our students by leading two masterclasses, a Q&A session, and public concert.
Academically we continue to expand our concurrent degree programs with Music and Psychology being the most recent one offered to students entering in fall 2019. Internationally we have solidified a relationship with Soochow University (China) and enrolled our first student in the MM (Composition) in a 1+1+1 program. The student is currently spending the second of her third year here at Western. We are currently in negotiations with other institutions for similar partnerships at the undergraduate and graduate levels.
London will be hosting the 2019 JUNO Awards in March, and in addition to the week-long concerts and recitals occurring on campus, Stephan Moccio will be here to play the Fridays @ 12:30 Concert Series recital and to engage with students in a Friday afternoon workshop.
The Canadian Operative Arts Academy continues to run each May; we continue to host the Atlantic Music Festival in May; offer Kodaly Certification Levels 1, 2, and 3 in July; and will host the Ontario Youth choir in August. Other academic workshops and courses as part of the summer MM (Music Education) will be offered as well as the Summer Band Camp and Oboe Intensive. Young Winds and New Horizons Band (NHB) continue, with NHB celebrating its 20th anniversary in 2019.
With the official retirements of Victoria Meredith and Gerry Neufeld, we have welcomed Patrick Murray, who is completing his DMA at the University of Illinois and originally hails from southwestern Ontario, for this academic year. As part of our growing interdisciplinary initiative, Music, Cognition, and the Brain, we were awarded an Interdisciplinary Development Grant under the leadership of Professor Jonathan De Souza. One product of that grant is the hiring of a postdoctoral student; Andrew Goldman has joined us, who was recently at Columbia.
We celebrate the work of Peter Paul Kaprowski who will begin the next chapter of his life as he retires December 31, 2018. The contributions he has made to our students' education and what he will continue to make in the world of newly created music is extraordinary. Professor Kaprowski is a recognized composer and his works consistently receive high praise and are in demand on a regular basis. We are thankful for his care and tutelage, and wish him the best as he continues on with his rich career.
Do stay in touch, and do visit us when you are in London. With hopes of seeing you at 2019 Homecoming weekend, I wish each of you all the best.
Betty Anne
(Younker)
Dean, Don Wright Faculty of Music
Professor of Music Education
Do contact us through phone, email, Facebook, or Twitter!
Photo: Dean Betty Anne Younker with President Amit Chakma, Music Building Grand Opening, October 2018. View more photos