Deral Johnson Legacy Award in Choral Conducting



Deral Johnson was an influential professor in the Faculty of Music for 22 years, who changed the landscape of choral music at Western. He passed away March 24, 2010 at the age of 83.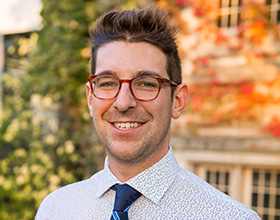 Several alumni initiated a fundraising campaign to raise $50,000 in an endowment to create a $2,000 award each year, in honour of Deral Johnson. In 2018, we reached our first milestone of endowing $25,000, which allowed us to start giving out $1,000 to deserving students. Deral Johnson's wife, Marie Johnson, travelled to London, Ontario with her family in October 2018 and was able to meet the first recipient of the Award, Morgan Kuepfer. We will continue to raise funds to reach our original goal of endowing $50,000.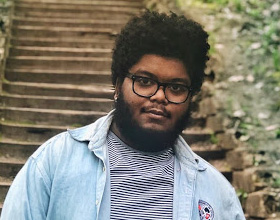 The Deral Johnson Legacy Award in Choral Conducting – is given to an undergrad or graduate student at Western who has academic achievement and excels in choral music leadership. Candidates must complete a one-page statement outlining their plans for further education involving choral music or conducting.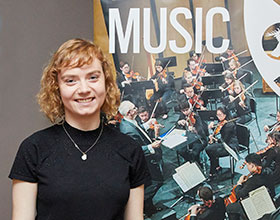 We thank all of our donors and are appreciative of any further support towards this special award. Deral Johnson's influence on choral music in this country and internationally is vast and continues through the many students who had the good fortune to be able to work with him. It is wonderful to know that future students will also benefit from his impact in so many lives.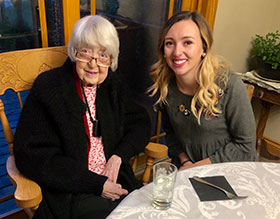 ---
Online Giving Form
www.westernconnect.ca/deraljohnson
---
Donors to date
King and Lois Abel
Sharon Acton Davis
Elaine J. Adair
Mr. and Mrs. Bob and Carole Anderson
Joan Andrews
Brenda Arrowsmith
Philip Baldwin
Dianne E. Ball
Rodger Beatty
Dennis Beck
Gwyn and Carol Beynon
Robert Blackwell
Mr. Steve Boothby
Lynda Busch
Ron and Penny Code
Robert H. Cooper
Glenda Crawford
Jenny (Jeanette) Crober
Dianne Cross
Elizabeth Durand
Archbishop Paul-André Durocher
Darryl and Dianne Edwards
David Faulkner
Ken and Janet Fleet
Jim Giles
Gloria Gassi
Mary Taylor Gillard
Patricia Green
Janice Harder
Dr. T. Tomson Highway
David Hill
Patricia Hoag
D'Arcy Irvine
Mr. Ian G. Juby
Robert Kettle
Beverley Killen (Anderson)
Gillian and George Laidlaw
Betty Lee-Daigle
Glyn Lloyd
Corinne MacDonald
Cheryl Marek
Paul Massel
Mary Jean McKen
Victoria Meredith
Mr. and Mrs. D. Paul and Enid Merritt
Randy Mills
Heather Morrison
Allan Mullin
David Palmer
Catherine Patterson (Chung)
Janice Perrier
Shelah Pickett
Adrianne Pieczonka
Sharlaine Reid
Linda Roland
Philip Shantz
Ori Siegel
Andrew Slonetsky
Shannon Smith
Susan Suchard
Kathleen Tapp Mock
Mrs. Nancy Telfer
Mary Lou Tremills
Connie Wills (Upper)
William and Brenda Zadorsky
"Deral Johnson was a formative presence that totally altered the entire discipline of choral singing, music, artistry, and awareness during his years at Western. He was more than just a good professor...he was on a mission. Under his leadership, from 1969 to 1991, the choral area developed into one of the highest-achieving programs in the country."
– Dr. Robert Cooper, BMus'72, MMus'76, Hons Mus'76
---
Contact Information
Karmen Ferraro
Senior Development Officer
519-661-2111 x85695
karmen.ferraro@uwo.ca