Jonathan De Souza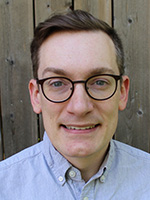 Associate Professor
Office: TC 117
Phone: (519) 661-2111 x85198
Email: jdesou22@uwo.ca
Jonathan De Souza is an Associate Professor of Music Theory. He is also the Director of Western's Graduate Collaborative Specialization in Music Cognition.

De Souza's research combines music theory, cognitive science, and philosophy, and it examines both classical and popular repertoire. He is particularly interested in questions about music, technology, and embodiment. For example, his book, Music at Hand: Instruments, Bodies, and Cognition, asks how instruments affect music's sounding organization and players' experience. De Souza often collaborates across disciplines. He is an Associate Member at the Brain and Mind Institute and is part of Western's Complex Adaptive Systems Lab. In 2020, Music at Hand won the Emerging Scholar Book Award from the Society for Music Theory, and he received a Faculty Scholar Award recognizing significant achievements in research.

At Western, De Souza teaches a range of undergraduate theory courses. Recent graduate courses have explored the history of music theory and science, phenomenological aspects of music analysis, and music theory pedagogy. He is the Director for Music, Cognition, and the Brain, an initiative at Western bringing together faculty members and graduate students from music theory and music education, psychology, cognitive neuroscience, audiology, and related fields.
De Souza holds a PhD in music theory and history from the University of Chicago, an MMus from Royal Holloway, University of London, and a BMus from Western University. He joined the faculty at Western in 2013.
Representative publications:
"Classical Rondos and Sonatas as Stylistic Categories" (with Adam Roy and Andrew Goldman). Music Perception 37, no. 5 (2020): 373–391.
"Fretboard Transformations." Journal of Music Theory 62, no. 1 (2018): 1–39.
Music at Hand: Instruments, Bodies, and Cognition. Oxford Studies in Music Theory. New York: Oxford University Press, 2017.
"'All Sights Were Perceived as Sounds': Pat Metheny and the Instrumental Image." In Watching Jazz: Encounters with Jazz Performance on Screen, edited by Björn Heile, Peter Elsdon, and Jenny Doctor, 147–68. New York: Oxford University Press, 2016.
"Voice and Instrument at the Origins of Music." Current Musicology 97 (2014): 21–36.
For more information, see
https://works.bepress.com/jonathan-desouza/
.