Jonathan De Souza named Faculty Scholar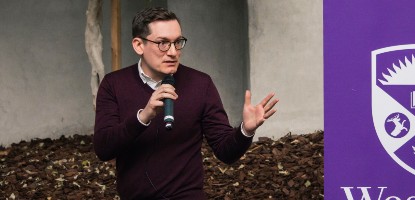 Congratulations to Music Theory professor Jonathan De Souza who was named as Faculty Scholar by Western University. Western selected 16 Faculty Scholars this year to recognize their significant achievements in teaching or research. The recipients are considered all-around scholars and will hold the title for two years and receive $7,000 each year for scholarly activities.

Dr. De Souza's research blends music theory with cognitive science and philosophy. His first book, Music at Hand: Instruments, Bodies, and Cognition (Oxford University Press, 2017) has received widespread praise and acclaim as not merely an important interdisciplinary contribution, but moreover a "transepistemological conversation" and "a brilliant essay on musical practice." He leads the Music, Cognition, and the Brain IDI at Western, building exciting new bridges between music and science. He currently holds a Visiting Research Fellowship at the Institute for Advanced Studies in the Humanities at the University of Edinburgh.
Read full listing of Faculty Scholars (via Western News, April 8, 2020)