Take a bow! Western well represented in NYO Canada 2023 program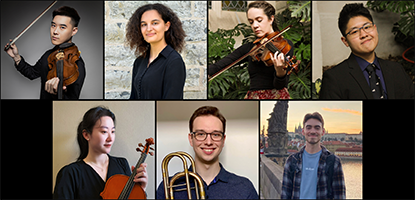 Western will be well represented this summer in the National Youth Orchestra of Canada (NYO Canada) summer program and tour. Seven students and recent grads were recently announced as part of the national orchestra's 2023 Aurora Tour, and one additional student who will be joining the production team this summer.
The mission of NYO Canada is to recruit the best young classical musicians from across the country and prepare them for careers as professional orchestral musicians. Each year, NYO Canada auditions more than 500 musicians ages 16-28 in a competitive national process.
Joining NYO Canada this summer are:
Violin
Ivan Li, Master of Music student (Performance-Violin) - student of Erika Raum
Viola - students of Sharon Wei
Miriam Elsawi, undergraduate (BMus Honours Performance-Orchestral Instrument).
Rachel Miner, Master of Music student (Performance-Viola)
Tasman Tantasawat, Master of Music student (Performance-Viola)
Mengguang Wang, Master of Arts (Music Theory-Dual Degree)
Bass Trombone 
Luke Roussy, BMus'20 - student of Peter Collins

Percussion 
Andrew Busch, BMus'22 - student of Jill Ball

Graduating student violist Cynthia Lê (BMus Honours – Music Education) has accepted a summer staff position on the production team of NYO Canada, and will be joining the orchestra on tour. During her time at Western, she was president of Music Education Student's Association. She has recently accepted her offer for graduate school at Harvard's Masters of Education in Policy and Analysis program.
Violinist Ivan Li, who plans to graduate in 2023, served as the Chamber Music teaching assistant in 2022-23 in addition to performing with the Western University Symphony and Chamber Orchestras during his time at Western.
Graduating violists Tasman Tantasawat and Rachel Miner have additional exciting summer plans: Tasman – who was selected for the inaugural Western/London Symphonia Fellowship program - will be presenting at the International Viola Congress in Thailand in June, and Rachel received a Global Opportunities award to perform at a festival in Mexico. Most recently, Rachel was the lead organizer for the Boys and Girls Club "Music for Meals" fundraising event held in March 2023.
Recent grad Andrew Busch, percussion, is currently completing his master's degree in Instrumental Performance at the University of Toronto. Last summer, he performed alongside several other Western students and graduates at the World Association of Symphonic Bands and Ensembles (WASBE) Wind Orchestra in Prague, Czech Republic, during the Sounds of Zofín international music conference.
Bass trombonist Luke Roussy is currently studying at The Glenn Gould School of The Royal Conservatory of Music as a candidate for the Artist Diploma (2023). When he graduated from Western in 2020, he received the University of Western Ontario Gold Medal.
Pictured left to right, starting with top row: Ivan Li, Miriam Elsawi, Rachel Miner, Tasman Tantasawat, Mengguang Wang, Luke Roussy, Andrew Busch.
Related links
Winds, Brass & Percussion Division at Western