Two top finalists from Western at Chicago International Music Competition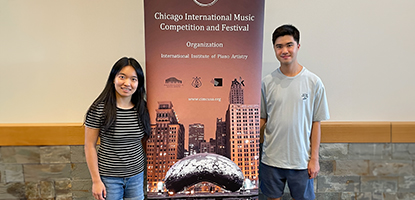 Congratulations to DMA piano student Jingquan Xie (student of Kyung Kim) and BMus percussion student William Kim (student of Jill Ball) who were awarded second and third grand prizes respectively in the Professional Concert Artist category at the 2023 Chicago International Music Competition. 
We are "purple and proud" to note that two of the top four grand prize winners in this category are current students at Western! 
Held at Wheaton College's Armerding Center for Music and the Arts as part of an annual Competition and Festival, jury members were Professor Yoheved Kaplinsky of the Juilliard School and Alexander Korsantia of the New England Conservatory in Boston.
In addition to each receiving a cash prize, both will advance automatically as semi-finalists into the Società Umanitaria Musical Competition, to be held in Milan, Italy, in early October of this year. 
Jingquan and William prevailed in a field of highly accomplished international finalists, including peers from the Yale, Eastman, Indiana, University of Michigan (Ann Arbor) Schools of Music, and Cincinnati and New England Conservatories of Music. 
Related links
About the Chicago International Music Competition and Festival
Winds, Brass and Percussion at Western