Western University Percussion Studio

Quick Links
Western offers a full-time faculty dedicated to establishing a technical and musical foundation on which students can build successful performing and teaching careers. The percussion studio typically consists of 16 undergraduate and graduate students combined. An undergraduate degree from Western develops the dedication and work ethic that prepares our students with the skills necessary to be successful in whichever career path they choose. We offer a competitive and supportive performance atmosphere coupled with rigorous academics. Consistency in technique, combined with emphasis on sound quality and musicianship, are hallmarks of the Percussion Studio at Western. Our faculty are available for extra consultation and foster a sense of community among all students in the Faculty of Music. Graduate students benefit from new perspectives and experiences as well as generous funding, and for those who qualify, teaching assistantships.
The percussion suite includes more than 2,400 square feet of teaching studios, rehearsal rooms, five large dedicated practice rooms and storage space.
All honours degree programs include:
Full-hour lessons for the entire four years
Performance Majors receive one and a half-hour lessons in their third and fourth years as they prepare for recitals and juries
Participation in the Percussion Ensemble
Masterclasses
Participation in at least one other large instrumental ensemble such as the Symphony Orchestra, Wind Ensemble, Symphonic Band or Jazz Ensemble.
Chamber Ensemble opportunities are also available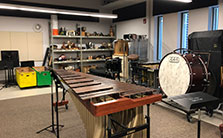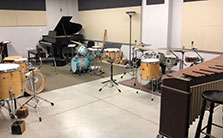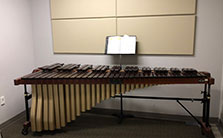 ---
Percussion Ensemble
The Western University Percussion Ensemble, under the direction of Dr. Jill Ball, is a dynamic performing group presenting concerts both on campus and off. The Ensemble, comprised of Percussion Majors, performs a variety of styles with a focus on contemporary percussion literature, and there are often appearances by guest artists. The Western Percussion Ensemble has performed in numerous OMEA (Ontario Music Educators Association) Showcase concerts, at LOLA (London Ontario Live Arts Festival) festivals, the 2009 and 2018 Ontario Percussive Arts Society Day of Percussion and appeared as guests artists with the London Concert Band and the Blythe Festival Singers. Other performances include Soundstreams Canada at the Glenn Gould Studio, Toronto, performing music by Peter Sculthorpe; Omar Daniel Composer's Concert UWO; Southwestern Ontario Region Music Fest, London, and twice at the South Huron Schools' Fall Band Festival in Clinton.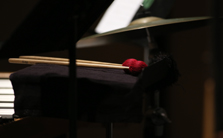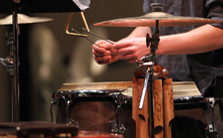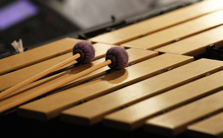 ---
 Percussion Alumni Testimonials
"The social connections of the studio were incredible, I am still close friends today with many of the other percussionists I spent those 4 years with. I wouldn't trade my time in the Western Percussion Studio for anything."
M.M., BMus'12 (Hons. Music Education), MMus'20 (Music Education)
High School Music Teacher
Hamilton, ON
"The education I got from Western was world-class and specifically the ensembles and lessons I took have greatly prepared me for working in several different fields of the music industry The Percussion studio was without a doubt the most educational and hard-working components to my time at Western and Dr. Jill Ball was the biggest and most helpful part of that process."
M.S., BMusA'17
Freelance Musician
London, ON
"I feel very fortunate that I was able to attend Western for my music degree. By being part of the percussion studio, I was able to meet many people that share the same passion for music that I do."
S.D., BMusA'11
High School Music Teacher
Toronto, ON
"Besides the fact that I teach music, the other life skills that are taught in the perc program are far-reaching and all-encompassing. Team work, professionalism, motivation and commitment are just some of the skills imparted to us as students."
J.T., BMusA'08
High School Music Teacher
Calgary, AB
"The Western Percussion Studio was the base that we all needed while navigating ourselves and our lives. It taught us how to be responsible for ourselves, how to help others (and when to not help others), and how to work with people who may not have the same learning style as you. It particularly helped me develop patience with myself as I was young, naive and anxious. Learning from Dr. Ball and how she operates the Percussion Studio created a foundation for my own philosophies as a music educator. Attending Western and being involved in the Percussion Studio was an essential part of my development as a teacher, musician, and individual."
K.N., BMus'11 (Hons. Music Education)
High School Music Teacher
Ottawa, ON
"Western was a critical stepping stone in my career. I was able to accelerate at UWO due to the friendly and helpful atmosphere at the music school."
J.B., MMus'14
Percussionist with the Royal Canadian Artillery Band
---
Contact Information
Dr. Jill Ball
Assistant Professor, Percussion
Winds, Brass & Percussion Division Coordinator 
MB 145
519-661-2111 x80175
jball2@uwo.ca