Kyung Kim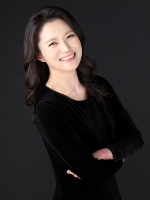 Associate Professor
Piano
Office: MB 320
Phone: (519) 661-2111 x85368
Email: kkim487@uwo.ca
Newly appointed as Associate Professor of Piano at the Don Wright Faculty of Music at Western University, pianist Kyung Kim was formerly Chair of the Keyboard Division and Associate Professor of Piano at the University of Minnesota, where she was also Founder and Director of the Minnesota International Piano Camp.
Born into a musical family, Dr. Kim is a graduate of Seoul National University under the tutelage of Jinwoo Jung, and holds the Doctor of Musical Arts degree from the University of Wisconsin-Madison where she studied with the late Howard Karp.
She has performed widely to critical acclaim in concerto, recital and chamber music performances throughout Asia, North America, and Europe. Praised for her "hypnotic" and "captivating" performances, recent orchestral collaborations have included with the Saint Paul Chamber Orchestra, and the Quad-Cities (Iowa), Winnipeg, Madison, Milwaukee, St. Cloud, Lawrence University, University of Minnesota, and the Greater Twin Cities Youth Symphonies, as well as the Jeonju Symphony Orchestra and Korean Symphony Orchestra. Other concerts have included solo and chamber music performances for the Niagara International Summer Music Festival, Heifetz International Music Institute, International Bartok Seminar and Festival, Mozarteum International Summer Academy, the Chamber Music Society of Minnesota, the Colonial Chamber Series, and repeated solo recital invitations for Wisconsin Public Radio and Television, Chicago's Live from WFMT, Brandon University's pro series, and the University of Winnipeg Virtuosi Series.
An avid and highly versatile chamber musician, Dr. Kim has collaborated internationally with such prominent musicians as Paul Edmund Davies, Leone Buyse, James Campbell, and David Perry, performances that have been heard in radio broadcasts for National Public Radio, Canadian Broadcasting Corporation, and the Korean Broadcasting System.
Dr. Kim has served as an adjudicator for a variety of arts festivals and competitions, and conducted master classes throughout the U.S., Canada, South Korea, and China. She was also chamber music coach at the Green Lake Summer Music Festival, Heifetz International Music Institute, resident pianist and artistic advisor to the Brandon Chamber Players, and Artistic Director of Mayfest in Manitoba, Canada.
A passionately devoted pedagogue, Dr. Kim's students have garnered top prizes in the U.S., Europe, Asia, and Canada, including at the Music Teachers National Association (MTNA) National Finals Competition, American Protégé, the Piano Arts, University of Minnesota Concerto Competition, the Madison Symphony Concerto Competition (Final Forte), Enkor International Competition, Quebec International Competition, National Canadian Music Competition (CMC), Stockholm International Competition, Muse International Competition (Athens, Greece), Grand Prize Virtuoso (London, U.K.), and the Vienna International Competition, among others. Her students have made performing debuts at some of the world's most prestigious venues including Carnegie Hall in New York, Megaron Athens Concert Hall in Greece, and London's Royal Albert Hall (U.K.).