Mitchell Glover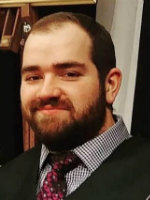 PhD Student
Musicology
Office: TC 121
Email: mglover5@uwo.ca
Mitchell Glover is a Ph.D. student in musicology whose research focuses on the orchestral transcriptions of the fin-de-siècle French composer Maurice Ravel (1875–1937). His current research draws connections between musical transcription and literary translation as a means to interrogate the ontological status of the musical work. Mitch holds a Master of Arts in Musicology from Western (2017) and a Bachelor of Music (hon.) with a minor in German-language studies from the University of Windsor (2015).
During his master's degree, Mitch pursued his interests in twentieth-century American music and eighteenth-century music editing. He presented a paper on the Berlin Philharmonic Orchestra's first American tour at the annual Western University Graduate Students in Music conference in 2016 and subsequently presented a research poster on the paper at the annual Society for American Music conference in Montreal, Quebec in 2017. In 2016, Mitch also began working as a music editor on a project in collaboration with Dr. Robert Toft to create a performance edition of Thomas Arne's 1762 opera Artaxerxes. The prospective edition will present a version of the opera, as it would have appeared in London, England in the 1820s under the direction of the conductor George Smart.
Mitch is active in the Western graduate student community, currently serving as the secretary for the Society of Graduate Students in Music. He also pursues his interests in policy by sitting on the Policy Committee and the Bylaws and Constitution Committee for the Society of Graduate Students at Western and by acting as the Graduate Student Representative for the Appeals Committee for Western's Parking and Visitor Services.