Gustavo Jimenez Pereira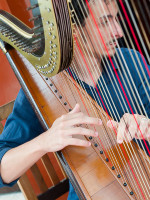 PhD Student
Music Education
Email: gperei2@uwo.ca
Gustavo Jimenez Pereira is currently a PhD student in Music Education at Western University. He is a Brazilian harp teacher who has taught in various settings, such as in higher education institutes, private conservatories and as a volunteer in NGOs and social projects.
Gustavo has 2 undergraduate diplomas in music. First a Bachelor in Harp (2014) and more recently a Bachelor in Music Education (2020). His Master's in Music Education (2019) at the Federal University of Rio de Janeiro searched for more meaningful and comprehensive guiding concepts for harp teaching using music transdisciplinary integration, student-based repertoire creation and collective teaching approaches. His research was the first one focusing on harp teaching in his country.
His working experience as a harp teacher started in 2014, when he was invited to teach at the southern region of Brazil in the Artistic Culture Society Conservatory of Jaraguá do Sul / SC, where he worked with more than 30 beginners and advanced students for almost 3 years. With 16 pedal harps, this conservatory is the one with the largest number of instruments in South America. Returning to Rio de Janeiro to pursue his master's degree, Gustavo worked for 2 years as substitute harp teacher at the Federal University of Rio de Janeiro, teaching undergraduate harp students and youth from the preparatory courses. In the meantime, Gustavo founded a harp class at a well-established NGO in the city of Niterói / RJ, the Grota String Orchestra project. Without instruments, Gustavo led crowdfunding campaigns on the internet and charity concerts to raise funds for the project's harps, and after working as a volunteer for 4 years, the project already has 8 lever harps and more than 20 harp students. Although his passion has always been teaching, Gustavo also played as a guest harpist in important Brazilian orchestras, such as the Brazilian Symphony Orchestra (OSB), the Paraná Symphony Orchestra (OSP) and the Petrobrás Symphony Orchestra (OPES).
Gustavo's research interests are centered in the area of pedagogy, following the focus of his master's research in instrument pedagogy. As his life experiences have drawn attention to musical access inequalities and social justice issues, he is interested in analyzing social and political contexts and how they interact with learning processes, therefore, critical pedagogy, sociology and democratic studies are subjects of his interest as well.