Dean's Greetings - January 2020
Strengthening Tradition - Igniting Innovation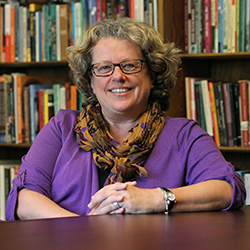 On behalf of the Don Wright Faculty of Music, I send greetings to each of you.
I write having just returned from China and the Ontario Music Educators Association (OMEA) annual conference.
In China, we continue to forge relationships with universities who are interested in having their students complete part of the degree program here at Western (currently a master's degree program). I continue to delight in describing what we do so well, and the committed faculty and staff members who support and guide students in multiple ways.
We had a strong presence at OMEA with over 30 undergraduate music students volunteering, faculty members and graduate students presenting, and faculty and staff overseeing the table in the exhibit area. We re-connected with many of you throughout the conference and at the reception - now an annual event - and reveled in the work you are doing, as well as hearing how your students are enjoying their time here at Western. The ongoing sense of community that is valued within the Faculty is experienced each year at the reception.
Another highlight this year was Homecoming, which included an alumni choir with time to socialize and get caught up. We also had the Western/OBA Intermediate Honour Band in the Paul Davenport Theatre (Talbot College), which included over 140 students participating, our students volunteering, and Dr. Colleen Richardson conducting.
This past September we celebrated the work of David Myska and Kari Veblen, both of whom retired end of June 2019, and John Hess, who retired at the end of December 2019. Each of these faculty members have had an incredible impact on the Faculty at large and on our students' education. They will be missed!
This past August we welcomed Kathleen Allan who is directing the choirs with Patrick Murray and Gloria Gassi.  A native of St. John's NL, Kathleen came from Vancouver to Toronto to be the new Artistic Director and Conductor of the Amadeus Choir in Toronto replacing Lydia Adams who step down as Artistic Director and Conductor after 35 years.  She continues to serve as the Artistic Director of Canzona, Winnipeg's professional baroque choral ensemble. 
Our alumni, faculty, staff, and students continue to be recognized and we encourage you to visit our website on a regular basis to read about their many accomplishments.
We continue to celebrate each of your accomplishments and thank you for your ongoing support of the Faculty–financially and time. Thank you for being a champion of our programs by encouraging students to consider a music degree from Western.
Do stay in touch, and do visit us when you are in London. I wish each of you all the best for the new year.
Betty Anne (Younker)
Dean, Don Wright Faculty of Music
Professor of Music Education