David Myska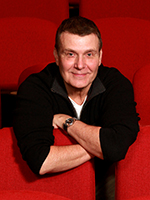 Professor Emeritus
Email: dmyska@uwo.ca
PhD (Harvard University, 1983)
Website: http://publish.uwo.ca/~dmyska/
Associate of the Canadian Music Centre
Research Interests: Instrumental, vocal and electroacoustic composition and performance; analysis; production and post-production; computer applications in music.
Representative Original Works
String Quintet "Printemps" (2016)
Like As The Waves (2014) solo compact disc
Gravity Lessons (2013) Wind Ensemble
Five Songs on Sonnets by William Shakespeare (2004, 2012) mezzo-soprano, cello
Con Sequenze (2011) violin and viola
Sinfonia Traces (2010) piano
On the Steps (2010) solo compact disc
Lynx (2010) guitar
Sinfonia Concertante (2009) orchestra
On the Steps of Mariyinsky Palace (2008) violin, clarinet, piano
Five Pieces for Violoncello (2007)
Psyche (2005-06) orchestra
Five Movements in Reflection (2004, 2007) violin, clarinet, harp
Chloris (2001) orchestra
Élégie - cloches (1998) Yamaha Disklavier piano and MAX software
Mensural Canons Improvisation Study (1998) Keyboard/synthesizer study for MAX software
Psalm 10 (1996-97) mezzo-soprano, flute, clarinet, harp, digital sample synthesizer, viola, cello and double bass
Zephyrus (1994-96) orchestra
Images (1990-91) flute and digital synthesizer
Three Songs on Poems by W.H. Auden (1988) baritone voice and piano
Music for Brass and Percussion (1988) Fantasy (1986) harp and MIDI ensemble
Quilt (1985) viola and digital synthesis
Ballade (1982) solo piano
Music for Piano and Chimes (1980) 4-channel tape
String Quartet (1978)
Trio (1977) oboe, clarinet and bassoon.