Two New Music Postdocs Starting in Fall, 2022
Two New Music Postdocs Starting in Fall, 2022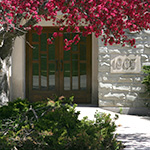 The Don Wright Faculty of Music is happy to announce it has been awarded two Western Research Postdoctoral Fellowships for 2022-24. The faculty is excited to welcome Uri Jacob (PhD The Hebrew University of Jerusalem) and Raj Singh (PhD York University) to Western.

Dr. Uri Jacob will pursue his postdoctoral fellowship under the supervision of musicologist Dr. James Grier. His project will examine some of the earliest known cases of notated music-making in a non-European setting, exploring the musical repertories that were in use in the Eastern Mediterranean during the crusader period (12th–13th centuries). By mapping the role of music in crusader life through a close reading of music manuscripts and music-related textual accounts, Dr. Jacob hopes to shed new light on the multicultural and multilingual exchange among Latin-European and local Eastern Mediterranean cultures. Currently, he works on expanding the known corpora of notated manuscripts and fragments from this period through archival research. His first year at Western will be spent on a comparative analysis of new and existing sources. Dr. Jacob's work will be informed by the deep expertise of Dr. Grier with the culture and palaeography of music of this period.

Dr. Raj Singh won an Indigenous Postdoctoral Fellowship to pursue a project that examines Inuit hip hop from the perspectives of the Inuit musicians who create, produce, and distribute it. Taking an ethnomusicological approach, her study involves working closely with Inuit musicians: she will live for five months in Inuit Nunangaat during her postdoc. Her work will centre the voices of hip hop musicians to help others understand how hip hop helps Inuit youth to speak about their lived experiences. Singh understands Inuit hip hop as a contemporary form of musical and oral/aural storytelling that allows people to share their personal and cultural viewpoints and experiences in meaningful ways. Dr. Singh will work under the supervision of Dr. Emily Abrams Ansari and Dr. Norma Coates, with additional mentorship from Indigenous scholars Dr. Sally Kewayosh (Faculty of Information and Media Studies) and Dr. Spy Dénommé-Welch (Education). Dr. Singh was interviewed about her work for a recent article in the Western News.