Norma Coates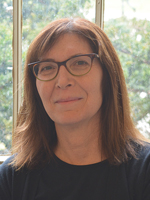 Associate Professor (On sabbatical leave until June 30, 2023, effective July 1, 2022)
Office: TC 225
Phone: (519) 661-2111 x85365
Email: ncoates@uwo.ca
Norma Coates, PhD, is an associate professor who focuses on popular music. She joined the faculty in 2005. She holds a joint appointment with the Don Wright Faculty of Music and the Faculty of Information and Media Studies.

Dr. Coates received a PhD from department of Media and Cultural Studies at the University of Wisconsin-Madison, ranked number one in the field in the QS World University Rankings, in 2002.

Coates, an interdisciplinary scholar, was among the first to theorize the role and relationship of women to popular music. Her articles are published in international journals and anthologies and widely cited and taught. She is also a cultural historian whose work challenges and revises commonly held beliefs about popular music history. Her most recent work focuses on popular music on American television before the 1980s.

Coates actively promotes the academic study of popular music in major international organizations. She currently serves on the editorial board of the Journal of Popular Music Studies and Music, Sound, and the Moving Image and the executive board of Console-ing Passions: International Conference on Television, Video, Audio, New Media and Feminism. She is co-chair of the Sound Studies Special Interest Group of the Society of Cinema and Media Studies and recently completed a five-year term on the editorial board of its prestigious publication Cinema Journal.