PhD student Joel Martinez-Lorenzana leads Music Making Creative Lab in El Salvador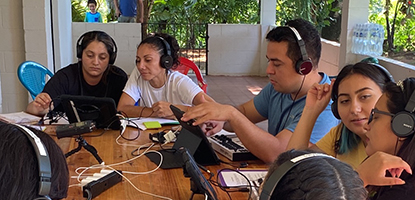 Music Education PhD student Joel Martinez-Lorenzana is in El Salvador this summer leading the Music Making Creative Lab.

The project is a community music intervention, working with young people with no musical experience to give them exposure to music-making using a Digital Audio Workstation. Joel is approaching this workshop as a mechanism for post-conflict resolution and healing.

Joel Martinez-Lorenzana is one of the leading performers and teachers in his home country, where he worked for ten years as faculty member at the National Autonomous University of Honduras and was appointed coordinator of Music in 2016. He was awarded a Fulbright Scholarship to pursue a Master of Music in Performance and Piano Pedagogy at Arizona State University, completing the degree in the Spring of 2021. Later that year, Joel was accepted as a PhD student at Western University.

Joel is interested in looking to different approaches to music teaching and learning, to find ways to challenge established structures of power through music. He has compiled, transcribed, reconstructed and performed several compositions that were forgotten for a century. Joel has also performed piano works by underrepresented composers from several Latin American countries, commissioning and premiering works that push the boundaries between music, electronics and ethnomusicological research.

Joel will continue to devote significant efforts to imagine ways to transform, transgress and delink music from practices that oppress and invisiblize diverse groups.

Joel's project is funded by a SSHRC Partnership Grant (PI Amanda Grzyb, Faculty of Information and Media Studies), Western University, and the Don Wright Faculty of Music.

To see more photos of the Music Making Creative Lab underway, shared via faculty member Emily Ansari visit Music's Instagram page, or check out the @memoria_el_salvador project account on Instagram.
Related links
Surviving Memory in Postwar El Salvador - Official project website
Graduate Studies in Music at Western