Students, faculty perform Terry Riley's "In C" outdoors across campus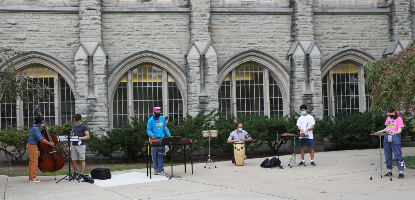 On Sunday, September 12, members of the campus community enjoyed a cross-campus 'plein air' performance of Terry Riley's "In C" – a chance composition of indeterminate length and instrumentation – to celebrate the return of live music to campus this fall.

Organized by faculty member Sharon Wei, and undergraduate music students Jamie Zhang and Elizabeth van't Voort as part of a 2021 Undergraduate Summer Research Internship and work-study project, dozens of Don Wright Faculty of Music musicians (students, faculty and staff) fanned out and performed across eight outdoor locations on campus.

Radio Western's station manager Timothy Glasgow created an ostinato (a steady beat) on a MOOG Unit Format Modular Synthesizer to send out over the airwaves for the 45-minute performance to keep all the musicians in sync.

The Don Wright Faculty of Music welcomed a new Dean - Michael Kim - in August. This event provided the first opportunity of the new school year to introduce him to students, and provided a great opportunity for students to play music with a large number for the first time since March 2020.
Watch a few highlights taken live during the event via Music's new Instagram page (@westernuMusic), view a short video (via YouTube) kindly recorded and put together by our friends at Radio Western, and have a look at the photos collected (via Flickr) by several student volunteers, faculty and staff who were on hand for the event.