Jonathan De Souza wins SMT Emerging Scholar Book Award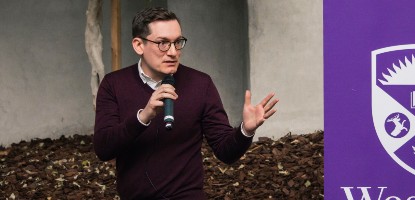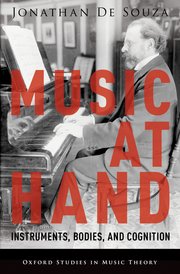 Music Theory professor Jonathan De Souza has won the Society for Music Theory's 2020 Emerging Scholar Book Award for his 2017 book Music at Hand: Instruments, Bodies, and Cognition (Oxford University Press).

De Souza is an Associate Professor of Music Theory and Director of Western's Graduate Collaborative Specialization in Music Cognition. He is currently a Western University Faculty Scholar.

The Emerging Scholar Award is a significant, prestigious prize from the leading scholarly society in the field of music theory.

The citation for the award reads:
"The recipient of this year's Emerging Scholar Book Award explores the interface between human and machine in musical creativity. Grounded in previous studies in embodied cognition and music psychology, the book probes the symbiosis through which musical instruments mediate experiences of the body, shaping music's sounding organization and the listener's experience. David Lewin's transformational theory provides a foundation in exploring how particular instrumental interfaces coordinate physical and tonal space, as the author focuses on wide-ranging instrumental idioms that include the keyboard fingerings of C.P.E. Bach and the harmonica stylings of Bob Dylan. The book advances our understanding of how instrumental mediation shapes perception, as borrowed instrumental schemas give rise to virtual instruments that project musical topics. The Emerging Scholar Book Award goes to Jonathan De Souza for Music at Hand: Instruments, Bodies, and Cognition, published by Oxford University Press."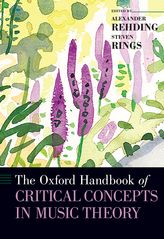 De Souza also contributed a chapter to the Oxford Handbook of Critical Concepts in Music Theory (ed. Alexander Rehding and Steven Rings), which won this year's SMT award for Outstanding Multi-Author Volume.
Related Links
Graduate Collaborative Specialization in Music Cognition at Western University