Ensemble crosses unique Canadian landscape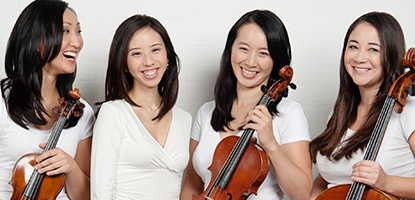 On the home stretch of a cross-Canada tour, Western's Ensemble-in-Residence is learning as much as they are sharing about this country.
Formed in 2006, Ensemble Made In Canada is a quartet of internationally recognized musicians, featuring Viola professor Sharon Wei, Angela Park on piano, Elissa Lee on violin and Rachel Mercer on cello. The quartet has been in residence at the Don Wright Faculty of Music since 2014.
During Canada's sesquicentennial, they hatched an idea to commission 14 original Canadian compositions and then perform them in communities across the nation. With that notion, MOSAïQUE was born.
The 14 compositions highlight the diversity of landscape, culture and language and range in style from jazz and reels, to Indigenous drumming and classical music. "It's a really eclectic mix," Wei said.
MOSAïQUE began touring in July 2018 and will be complete in January 2020, after having performed for audiences in 50 different communities in all provinces and territories. They make a point of collaborating with fellow musicians, students and artists in each place they visit. The final concert of the project will take place January 24th, 2020 in St. Catharines.
Read full article and view video
(Western News, Apr. 30, 2019)
Related Links
Artists in Residence - Ensemble Made In Canada
Ensemble Made In Canada - Mosaïque
YouTube - Ensemble Made in Canada in Iqaluit
CBC Radio interview (Sunday Edition) with Angela Park and Elissa Lee (October 10, 2017)