Artists in Residence
We were proud to welcome the following official Artists in Residence back for the 2019-20 academic year. This program is sponsored by Western University's Office of the Provost.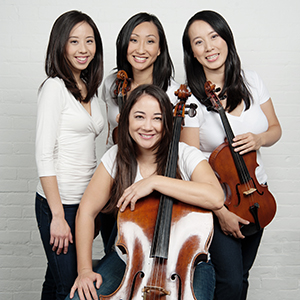 Ensemble Made In Canada
January 2020
Ensemble Made In Canada is rapidly gaining recognition as Canada's premier piano quartet. Awarded the 2006 CBC Galaxie Stars Award from the Banff Centre for the Arts, the quartet was also featured in 2008 Chatelaine Magazine's 80 women to watch as an ensemble that is leading the next generation of classical musicians. The members of the group have been forging outstanding individual careers and bring together a shared love of chamber music and a wealth of experience having already appeared at prestigious festivals such as Marlboro, Ravinia, Orford, Verbier, Prussia Cove, Pablo Casals and Evian. At Western the ensemble will be working with students involved in chamber music, orchestra, collaborative piano, and composition.
In 2018, Ensemble Made In Canada launched the Mosaïque Project, which consists of three components: a newly commissioned suite of piano quartets by 14 Canadian composers, each inspired by a particular region of Canada, a national concert tour throughout the 2018-2020 season, and a specially designed website that will document audience-generated artwork inspired by the musical commission. 
On Friday, January 24, 2020, Ensemble Made In Canada presented a Mosaïque Project livestream concert from the FirstOntario Performing Arts Centre in St. Catharines.
Read the Western News article about Ensemble Made in Canada's Mosaïque Project national tour.
Elissa Lee, violin
Sharon Wei, viola
Rachel Mercer, cello
Angela Park, piano
Concerts
Tuesday, January 21 | 12:30 p.m.
von Kuster Hall, Music Building
Duos and Trios with Ensemble Made In Canada
Students from Music Performance Studies perform alongside members of EMIC in a selection of chamber works including Mozart's Duo for violin and viola, Mozart's Kegelstatt Trio, Ravel's Duo for violin and cello, Rossini's Duo for cello and bass and Brahms' Trio for clarinet, cello and piano.
New! Faculty member Sharon Wei and violist for EMIC will also give the world-premiere of "Twitter etudes no. 3" - six short etudes for solo viola by composer John Burge.
Tuesday, January 21 | 7:00 p.m.
von Kuster Hall, Music Building
Celebrating Ensemble Made In Canada's Mosaique Project
This concert will showcase the research-creation enterprise Mosaïque Project. EMIC Quartet members will describe its evolution, its funding, the Canadian music it produced, and the quartet's cross-country tour. We will also meet some of the Mosaïque composers and hear music and see art from the Mosaïque.