Mapping memories in El Salvador nets team Humanitarian award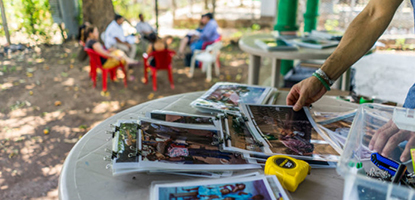 A trans-national interdisciplinary initiative called "Surviving Memory in Postwar El Salvador," which is based in El Salvador and funded by the Social Sciences and Humanities Research Council (SSHRC), has been awarded this year's Western Humanitarian Award.
The project works with former refugees and massacre survivors to document their experiences during the Salvadoran Civil War (1979-1992). Amanda Grzyb, the principal investigator and professor in the Faculty of Information and Media Studies (FIMS), is among more than a dozen members of the Western community involved with the project, including Associate Professor Emily Abrams Ansari, Don Wright Faculty of Music.
This archive will also include a music component. Emily Abrams Ansari has worked with refugees to collect folk songs written during the civil war. "Some of the songs describe in great detail the massacres that occurred but no one has made any efforts to preserve them or document them," Ansari said.
Established in 2010, the Western Humanitarian Award recognizes faculty, staff and students engaged in a range of efforts directed toward improving the quality of life for individuals and communities around the world. Funded by the Office of the Vice-President (Research), this award provides a maximum of $5,000 in support of humanitarian efforts as chosen by the recipient.
Read full article (Western News, Nov. 9, 2018)
Photo: Moses Monterroza - Special to Western News
(Photos at a community workshop in Copapayo, El Salvador, April 2018.)
Related links:
Abrams Ansari and Ocádiz travel to El Salvador to participate in interdisciplinary research project
Emily Abrams Ansari - Biography
Powerful Sounds - Emily Abrams Ansari - website and blog
Western Humanitarian Award 2018