Meet our faculty

Faculty members at the Don Wright Faculty of Music provide the highest quality of creative and scholarly experiences for students in all undergraduate and graduate programs within and across disciplines. In addition to reviewing faculty member's biography pages, here are a few virtual ways you can meet our teacher scholars.
---
Take Note student podcast
Led by Music students, enjoy Take Note podcasts by and for music students featuring interviews with profs & students, music reviews and so much more!
Listen to Take Note on Soundcloud
---
Teaching Excellence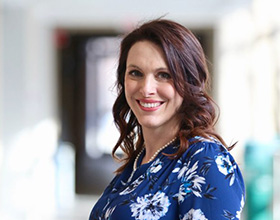 "Students respond to passion, to dedication, to the love you have for what you do and how you communicate that to them. The more you are engaged in that process, the more you get back. If you cultivate that relationship with your students, it's a pleasure to be in the classroom."
Hear from Sophie Louise Roland, Chair, Music Performance Studies Department, and Teaching Fellow in Western's Centre for Teaching and Learning.
---
Music Education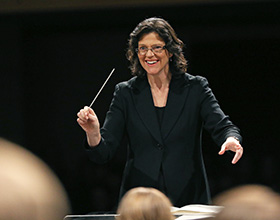 Meet Music Education professor Dr. Colleen Richardson as she talks about the exceptional experiences offered to Music Education students at Western. From curriculum-based experiential learning, expanded secondary instrument training, to in-house teaching opportunities, learn more about what differentiates Western from other institutions.
---
Research News
Research in the Don Wright Faculty of Music takes many forms as do the activities of our world-renowned faculty members. Research work includes creative scholarly products such as CD and DVD recordings of new repertoire or new interpretations of existing repertoire, compositions and more traditional research forms such as publications of books, book chapters and journal articles.
---
Performance
Our Music Performance Studies faculty members include some of the most important artists/teachers in the country.
Enjoy a recent concert by Associate Professor Leslie Kinton. (February 7, 2020, von Kuster Hall) performing three Beethoven piano sonatas during the 2019-2020 "Fridays @ 12:30" concert series.
---
Who Do You Think You Are? Podcast series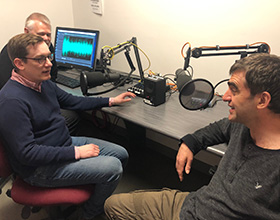 Who Do You Think You Are? is hosted by Nino Ricci, the Alice Munro Chair in Creativity at Western University. Each episode, the multiple award-winning Canadian novelist talks to a faculty member from the Western community who makes a difference in their field by challenging old assumptions or forging new models for how we make sense of the world.

Episode 2 - Body Movin' (Jonathan De Souza)
In this episode, Nino and guest Jonathan De Souza discuss music as a total body experience and how playing a musical instrument extends beyond learning the right notes. Examining the interplay of technology and technique in both classical and popular music, Jonathan's research at Western's Don Wright Faculty of Music combines music theory, cognitive science, and philosophy. He serves as the director for Western's Music, Cognition, and the Brain initiative.

To listen to this episode and more, visit the Who Do You Think You Are? home page.
---
Read, Watch, Listen
Read. Watch. Listen. (via Western News) introduces you to the personal side of our faculty, staff and alumni. Participants are asked to answer three simple questions about their reading, viewing and listening habits – what one book or newspaper/magazine article is grabbing your attention; what one movie or television show has caught your eye; and what album/song, podcast or radio show are you lending an ear to.