Victoria Meredith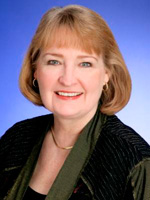 Professor Emerita
Email: vmeredit@uwo.ca
Victoria Meredith has served as Associate Dean (Academic), Chair of the Department of Music Education, and co-ordinator of choral activities. She has taught choral conducting and conducted the award-winning Western University Singers and Les Choristes. She holds degrees in music education (Indiana University), voice performance (University of Northern Colorado), and choral conducting (University of Arizona). Choirs under her direction have received numerous honours and awards, including CBC Choral Competition prizes, performance awards from the Canadian Music Educators Association, the Jack Richardson Award and the London Music Award.
Designated a Western University Faculty Scholar in 2009, her primary research interests lie in the areas of the adult choral singer and choral music in Canada. Her book, Sing Better As You Age (Santa Barbara Music Publishing, 2007) received the Association of Canadian Choral Conductors' 2008 National Choral Award for Outstanding Choral Publication. She co-authored the chapter on Canadian choral music in The Cambridge Companion to Choral Music (2012), and has produced numerous critical performing choral editions and articles on a variety of topics of interest to choral musicians and educators. These have appeared in the Choral Journal, Anacrusis, the Canadian Music Educator, the Music Educators Journal and other professional journals. Victoria Meredith is a former president of the Association of Canadian Choral Conductors and has served on several editorial boards.
A frequent juror for arts organizations such as the Canada Council, the Juno Awards, and the Ontario Arts Council, she maintains an active career as a guest conductor, workshop clinician, and adjudicator. She has guest-conducted choirs across Canada, in the United States and abroad, including the 2010 National Youth Choir of Canada.