Jeffrey Stokes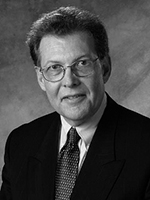 Professor Emeritus
Email: musjls@uwo.ca
Jeffrey L. Stokes studied double bass (with Oscar Zimmerman, Principal Double Bass in Toscanini's NBC Orchestra) and musicology at the Eastman School of Music of the University of Rochester.  He subsequently took a PhD degree in musicology at the State University of New York at Buffalo.
First appointed to the Faculty of Music of The University of Western Ontario in 1970, he became Director of Graduate Studies in Music in 1984 and served as Dean from 1986 to 2000.  During 2010-11, he briefly returned to administration as Acting Chair of Music Performance Studies.
From 2000 to 2012 he produced the Faculty's flagship "12:30 Fridays" concert series.  Named Professor Emeritus in 2015, he continues with some studio teaching and work with graduate students, and assisting the Dean with management of the Faculty's current $20 million capital renovation and expansion project.
He also continues to perform and record as a chamber player and narrator-actor, and with orchestras throughout Ontario; and to lecture, give clinics, and adjudicate throughout Canada.  In particular, he was invited to lecture for Alumni Western's cruises on the Danube and in Russia, and regularly speaks, plays, and designs programming at Canada's prestigious summer "Festival of the Sound" in Parry Sound, ON.              
He has served as a consultant to both the Canada Council and the Ontario Arts Council, and frequently as a judge for the Juno Awards.