Wilma van Berkel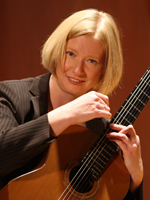 Lecturer
Guitar
Office: MB 459
Phone: (519) 661-2111 x85327
Email: wvanber@uwo.ca
Wilma van Berkel, born in the Hague, the Netherlands, obtained both her teacher's and performer's degrees from the Rotterdam Conservatory, where she studied with Hans van Goch and Jorge Oraison. She was awarded two consecutive Foreign Exchange Scholarships from the government of Czechoslovakia and a grant from the Dutch Ministry of Culture to study at the Prague Academy of Fine Arts with Štepán Rak.  Apart from maintaining a busy private music studio and the duo with Robert Kubica, she performed with Duo Resonance (Sibylle Marquardt, flute), with whom she recorded the disc "From the New Village", and with violinist Corey Gemmell as well as soprano Sherry Steele. Wilma also has a keen interest in early music and studies with Lucas Harris at the Tafelmusik Baroque Summer Institute and The Oberlin Baroque Performance Institute as well as through an ongoing connection with the Toronto Continuo Collective, an informal 17th century "pluck band" on period instruments. She currently is pursuing studies in lute building, a field she is very passionate about, doing regular grant funded residencies in Vancouver, BC, with master builder Travis Carey.
The guitar duo of
Robert Kubica
, who also teaches at DWFoM, and Wilma van Berkel, possesses "a charisma that is rare in the guitar world", and critics have consistently praised the duo's expressive range, technical facility, and audience rapport. Their two-CD set of the complete guitar duets of Fernando Sor on the Naxos label has sold tens of thousands of copies around the world, has been featured regularly on both English and French radio in Canada, and has received glowing reviews in Canada, the U.S., Germany, France and Spain. 
The duo has continually expanded their repertoire through brilliant transcriptions of works which showcase their expansive palette of tone colours, such as Janácek's intimate cycle of piano miniatures On an Overgrown Path, and Dvorák's vibrant Slavonic Dances. The duo has also commissioned important new works such as Alan Torok's La Symétrie Charmante, which is featured on the duo's third CD entitled
The Charm of Symmetry
(1998), and his Flamenco-influenced concerto for two guitars and string orchestra.
The Kubica-van Berkel duo was formed in 1990 in Prague, on the advice of the renowned guitarist and composer Štepán Rak, with whom both Robert and Wilma were studying at the time. Rak, delighted with their ensemble work and imagination, soon began presenting the duo in concert in cities around the Czech Republic. Since 1992 they have been based in Canada, where they have been in demand as concert artists and as teachers. They have been awarded numerous grants from both the Canada Council and the Ontario Arts Council. Both Robert and Wilma have been on faculty at The National Music Camp of Canada for the past 8 years.