Troy Ducharme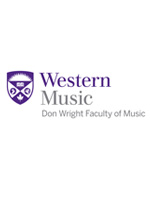 Assistant Professor
Office: TC 231
Phone: (519) 661-2111 x87716
Email: tducharm@uwo.ca
Troy Ducharme (D.Mus.) composes music for all manner of instrumental and vocal ensembles and for electronics. His style and technique encompass many forms of serialism, chromatic tonality, Renaissance and Baroque counterpoint, and timbral composition. Adapting his technique to each new piece, the result is a varied repertoire, from the Romantic pathos of the Brass Sextet to the static atmospheres of Movement in Time and the tightly-controlled Five Bagatelles for Flute and Piano.
Troy's varied compositional interests have resulted in a wide range of teaching specialties. In over a decade of teaching at Western University, he has taught core theory courses (2649,2650) as well as more specialized courses in Composition (2629), Twentieth-Century Theory and Analysis (3649/3650), Contemporary Repertoire and Analysis (9556), Romantic Analysis (3604), Chromatic Harmony (3602), Tonal Counterpoint (3620/3621), Modal Counterpoint (3610/3611), Orchestration(3640), Choral Arranging (3630) and Topics in Canadian Music (3760).
Troy completed his doctorate at the University of Toronto in 2008, where he studied with Christos Hatzis and Alexander Rapoport. Upon graduation, he was awarded the John Weinweig Graduating Award in Composition. Earlier degrees (M.Mus 2003, B. Mus. 2000) were from the University of Western Ontario, where Troy studied with David Myska, Peter Paul Koprowski and Alan Heard. Troy has been honoured with several scholarships, including an Ontario Graduate Scholarship (2001-2), and was awarded the Alumni Gold Medal for Music at UWO in 2000.
Since 2014, Troy has served on the board of the Canadian University Music Society (MusCan) as Website Editor.
Selected Works
Duo Français for Trumpet and Horn (2011)
Ricercare for Horn Solo (2011)
Nocturne "Kick at the Darkness" for Alto Saxophone and Piano (2010)
Remnant (2008)
Sibilance: Deep Wireless Remix (2008)
The Book of Thel (2005-2007): Oratorio for Chorus, Orchestra and Soloists on the text by William Blake.
Movement in Time for Surround-Sound Electronic Tape and Nine Players (2004-5)
The Tone for Electronic Tape (2006)
Lyric for Bass Clarinet and Piano (2006)
Five Bagatelles for Flute and Piano (2004)
Brass Sextet "Aus Tiefer Not" (2000-2004)