Simone Luti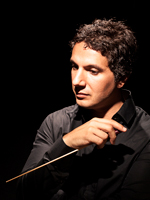 Lecturer - Piano and Collaborative Piano
Opera Music Director & Head Coach
Symphony Orchestra Director
Office: TC 10 / MB 310
Phone: (519) 661-2111 x83705 / x85372
Email: sluti@uwo.ca



"Those who see, know, or simply work with Simone Luti, are able to appreciate, beyond his musical talent, his huge human and cultural sensitivity. These are skills which allowed him to get respect and unanimous consents wherever he has been and has worked."
- LuccaMusica, September 2004.
A native of Lucca, Tuscany, orchestral conductor and pianist Simone Luti has gained recognition and acclaim for his musical instincts and sensitivity both on the podium and at the keyboard.
As part of his musical training, M° Luti studied piano with Gloria Belli, Konstantin Bogino and Fabrizio Papi while his formal studies in composition were overseen by Pietro Rigacci. During his compositional studies, his passion for opera blossomed and he went on to earn academic scholarships to study opera, firstly at the Teatro Verdi in Pisa, and afterwards in Milan at the Academy for performing Arts associated with the Teatro della Scala. He studied conducting with Vittorio Parisi at the Academy of Giuseppe Verdi in Milan, and at the Accademia Chigiana in Siena with Gianluigi Gelmetti.
In 2002, M° Luti began working as coach at the Teatro della Scala and main Italian Theatres, collaborating with the most significant directors, singers, and film directors in the operatic world. In parallel, he also collaborated with Mirella Freni, Luis Alva, and Luciana Serra in opera training academies, Luis Alva, and Luciana Serra, devoting himself to the musical training of young opera singers.
M° Luti has conducted on the podiums for such organizations as The Musical Festival in Ticino Locarno, Switzerland, the Gratchen Festival in Amsterdam, the Opera Studio Nederland, Opera National de Montpellier, in Albania at the Opera Theatre in Tirana, the Symphony Orchestra of Bacau, Romania, and the International Opera Theatre of Philadelphia (in Teatro degli Avvaloranti, Città della Pieve; Teatro Mancinelli, Orvieto; and The University of Performing Arts, Philadelphia), Orchestra London & London Symphonia, and many more. Other international engagements took him to Cremona as coach for As.li.co's productions of Pagliacci, La Voix Humaine, The turn of the screw, Medea e Zauberflote, as chef de chant for Théâtre du Chatelet's production of Norma, as a coach at the Opera de Montréal, as coach of Accademia Filarmonica Romana's production of the opera For You, as musical director for American Opera Theater's production of La Tragédie de Carmen, Dido and Eneas, Butterfly, Riders to the sea, Rigoletto, both in Italy and Baltimore, as well as numerous collaborations for recitals and concerts in Italy and abroad.
At the keyboard, M° Luti has performed as a solo and collaborative pianist in recitals, opera galas, and chamber groups for theatres and musical institutes throughout Italy, Canada, United States of America, France, Austria, Switzerland, and Belgium. These collaborations led to recitals with international opera stars such as Irina Lungu with whom he collaborated at the Lucerne Festival.
ßM° Luti also now shares his work with the next generation and as such become musical director of the Canadian Operatic Arts Academy, hosted at the University of Western Ontario and its Faculty of Music, and its sister program Accademia Europea Dell'Opera, in Milan, Amsterdam and Lucca where he conducted Suor Angelica, Gianni Schicchi, Così fan tutte, Don Giovanni, The turn of the screw, Le nozze di Figaro, Butterfly, La Cenerentola and Die Zauberflote, and La Finta Giardiniera amongst many others. He has been also musical director of the Summer Opera Workshop of Indiana University. He also currently serves as Music Director and Conductor of both Western University's Symphony Orchestra and Chamber Orchestra as well as holding the positions of Musical Director & Head Coach of the Opera Program, and Lecturer for the Art of Vocal Coaching.
Most recently, M° Luti had the immense pleasure to join the Canadian Opera Company as Assistant Conductor for their production of La Bohème (2019), Head Coach and Assistant Conductor of Il Barbiere di Siviglia (2020), Aida (2020 and cancelled due to COVID), Gianni Schicchi (2021), Traviata (2022), and will be returning as Head Coach and Assistant Conductor for the upcoming COC production of Le Nozze di Figaro (2023) as well as Macbeth (2023) and Tosca (2023). Also at the COC, he has worked with the ensemble for the past 4 years, honoured to be part of such a prestigious operatic training program.