Ruth Wright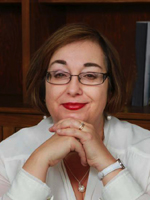 Professor
Office: TC 438
Phone: (519) 661-2111 x88713
Email: rwrigh6@uwo.ca
Ruth Wright is Professor in the Department of Music Education. She served as Chair of the Department of Music Education from 2009-13 and Assistant Dean Research from 2013-15. Before joining the Don Wright Faculty of Music in 2009, she lectured in music education at the University of Wales Institute Cardiff (Cardiff Metropolitan University) and was Director of the Graduate Continuing Professional Development Framework in education. Wright's earlier career involved teaching high school music and maintaining a large private piano studio. She studied music at the Royal Academy of Music, London, UK and music education at the University of Wales Institute, Cardiff. She received her PhD in Education in 2006. Her research interests are the sociology of music education, popular music in music education, and the inclusion and empowerment of marginalized students in and through music education. She is passionate about the rights of all young people to a rewarding and culturally relevant experience of music in education. In 2012, in collaboration with colleagues Betty Anne Younker, Carol Beynon, Jennifer Lang and Leslie Linton, she launched Musical Futures Canada, a music program aimed at addressing these issues. Wright publishes regularly in books and refereed journals on the subject of music education and is a speaker at national and international conferences. She is particularly interested in supervising doctoral students interested in sociology of music education, and popular music pedagogy.
Books
Sociology and Music Education (2010) Farnham: Ashgate
Available through Routledge.
Wright, R., Beynon, C., Younker, B.A. (Eds.) (2017) 21st Century Music Education: Informal Learning and Non Formal Teaching in School and Community Contexts. S. O'Neill (Series Editor) CMEA Research to Practice Book Series.
Available through Amazon and Google Play.